Performance appraisal in small to medium companies (including startups) is one of those things that CEOs equate to going to the dentist. Not only do they not like it, they are not good at it.
There are a lot of very odd ideas at play here in the performance appraisal business — 360 degree appraisals which also fold in the guy selling flowers on the street corner — which makes the process a moving target; moving targets are notoriously hard to hit.
The message I bring you today is that a suspiciously simple, well-designed and executed performance appraisal system can be the most powerful personal tool wielded by a keen CEO for inspiration and motivation of individual team members.
It can also be clean, streamlined, and painless.
Let's take a quick look at where performance appraisal fits within the overall schema of a company's organizational matrix. Click on the graphic to see it at a larger scale.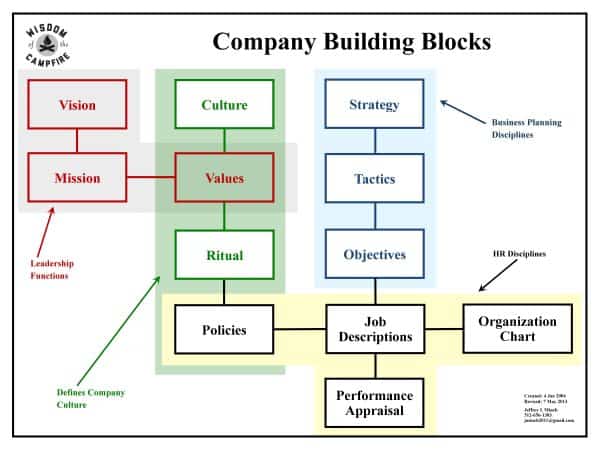 What I want you to see is that performance appraisal is at the foundation level of the company's Vision, Mission, Strategy Tactics, Objectives, Values, and Culture.