The situation in Syria has been FUBAR (fucked up beyond all recognition) since its inception during the Obama admin when we armed parties whose primary merit was that they opposed the evil, cruel, murderous regime of Bashar al-Assad, a second generation murderer who has used poison gas against his own people.
This is the "the enemy of my enemy is my friend, even if they are a little suspect" theory of foreign relations. This is the kind of thinking you get when the leadership has slept through history class and made "D's" in summer school when they had to take it a second time.
This clown on the right, with the ringmaster from Russia (ever notice what a little shit Putin is), is Bahar al-Assad, who is an eye doctor educated in England. Couple of first rate assholes. [Pardon my profanity.]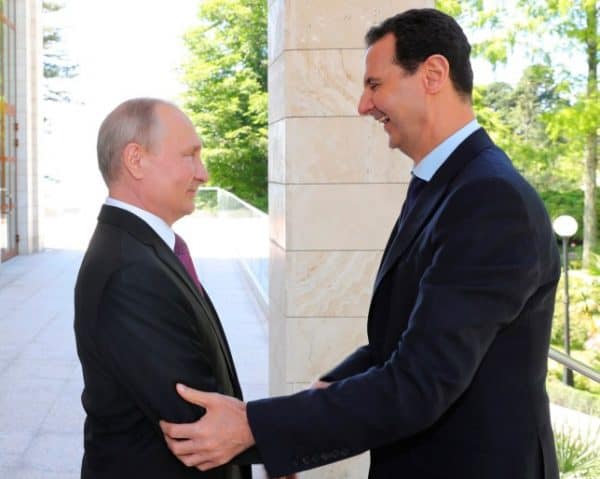 You may recall that President Obama courageously "red-lined" Bashar, threatened to retaliate against him if he used chemical weapons. Then President Obama, famously, punked out and did nothing, thereby emboldening Bashar.
Shit, shit, shit, shit. Pardon me. I hate stupid. I hate bullshitters. Shit. I hate poseurs as much as I hate fakirs. Sorry, I'm over it now.
President Trump came into office and did the same thing — threatened Bashar with massive retaliation if he used chemical weapons. President Trump, however, kept his promised threat and struck Syria twice — the first time knocking out an airfield and twenty percent of Syria's air force, and the second time destroying the headquarters and infrastructure of the Syrian chemical effort.
Well played, President Trump. I like a guy who keeps his promises.
This settled things down a little in Syria. But, we are no longer in the regime change mode.