Big Red Car here.  Funny day yesterday — rain, sun, humid.  Today has to be better.  It's supposed to be hot and sunny here in the ATX.
So, the house sitter is gone and The Boss is back from his East coast road trip.
You have to love a good road trip and The Boss just took one to celebrate his Father's 95th birthday.  The Old Man is 95 and still going strong.  Full head of hair — white with wisdom, don't you know — and sharp as a tack.
Happy Birthday, Old Man and thanks for winning World War II in the bargain.
Road trip
As a Big Red Car — even though I do not get the nod on the long road trips these days, I still draw the assignment when going down to San Antone or out to the lake — I must applaud and encourage road trips.  Road trips are an American tradition.  Hell, left to the Big Red Car, I would make them part of the immigration process.  [Haha, Big Red Car, you crack yourself up, now don't you?  Haha.]
A damn good road trip requires a bit of distance to be covered, a lot of barbecue to be eaten, some journeys on those little black roads upon which the real America lives and a bit of pretty country.
The Boss likes to get up early — 4:00 AM departure time for The Boss — and cover some real distance that first day but with at least one deviation through Black Road Country.
On this trip, he wandered through the Shenandoah Valley a bit looking up close and personal at the Breadbasket of the Confederacy.  The Shenandoah Valley is one of the most fertile parts of cow country in the world.
In Texas, you count your "acres per cow" and in the Shenandoah Valley, you count your "cows per acre".  The grass is high and strong and plentiful.  The cows are fat and contented.  The scenery is glorious.
As you wander those little backroads — always eventually making your way back to Interstate Highway 81 — you will find old plantations, great big farms, Civil War battlefields and the history of our country.
So, make sure to take a damn good road trip this summer.
Dairy Queen
So, Big Red Car, where and how does Dairy Queen fit into this?  OK, Grasshopper, listen and learn.
If you have kids, then you really have to listen.  Hell, if you have a spouse or even a close friend you are travelling with you will want to listen and listen closely.
First, let me introduce you to the DQ "dipped cone" — that lovely creation of cone, ice cream and chocolate dip.  Get the big one, Old Sport, you deserve it.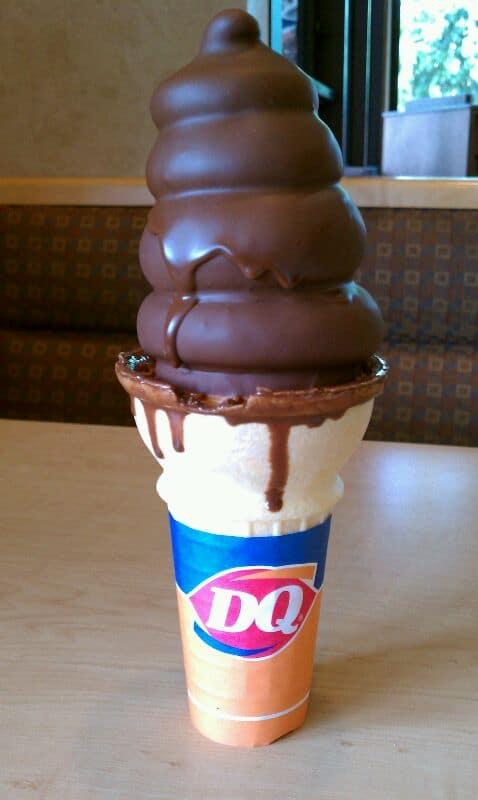 When the kids are misbehaving the threat of "no DQ dipped cone" will subdue even the most unruly.  This is called behavior modification.  Hell, it even works on your husband or wife.  The power of the DQ dipped cone is literally mind changing.
Do not eat your dipped cone at the DQ — eat it as you are traveling down the road and you will enjoy about an hour of peaceful bliss.  About 10 minutes to actually devour that lovely little vixen and then a joyful 50 minutes to savor it.
Ration yourself to no more than 4 DQ dipped cones per day.  [Haha, WTF, Big Red Car — four DQ dipped cones per day?  Are you nuts?  Well, yes, I am nuts about the DQ dipped cone and who in their right mind would not be?]
Warren Buffet
So how does Warren Buffet fit into all of this, Big Red Car?  Huh?  Really, Old Sport?  How does Warren Buffet fit into the Dairy Queen and road trip picture?
Warren Buffet owns Dairy Queen, Old Sport.  The best investor in the history of the world — the freakin' Sage of Omaha — owns Dairy Queen.  He has owned it since 1998.
For just the small price of a "large dipped cone, please", you can be side by side with Warren Buffet in enjoying and owning a piece of Americana.
Dairy freakin' Queen, ya'll!
Is this a great country or what?
A Southern Thang
There are those who will say that Dairy Queen is a Southern Thang and that is it just one more reason to live south of the Mason-Dixon line.  Grasshopper, that is unfortunately not quite the whole truth.
The truth is that Warren Buffet is a Yankee and that DQ is all over the world now.  They have 6,000 units world wide.
But, yes, it is a small town Southern Thang in the Big Red Car's mind also.  Alas, the truth is a bitch.  Sorry, Old Sport.
Orange Julius
So, before we leave this subject I want to say one more thing — Orange Julius.  Orange Julius is also owned by Dairy Queen and Warren Buffet thereby cementing his investing prowess for all time.  You go discover your own Orange Julius thing yourself.  Maybe next time I will educate you about Orange Julius, ya'll.  But that's enough for today.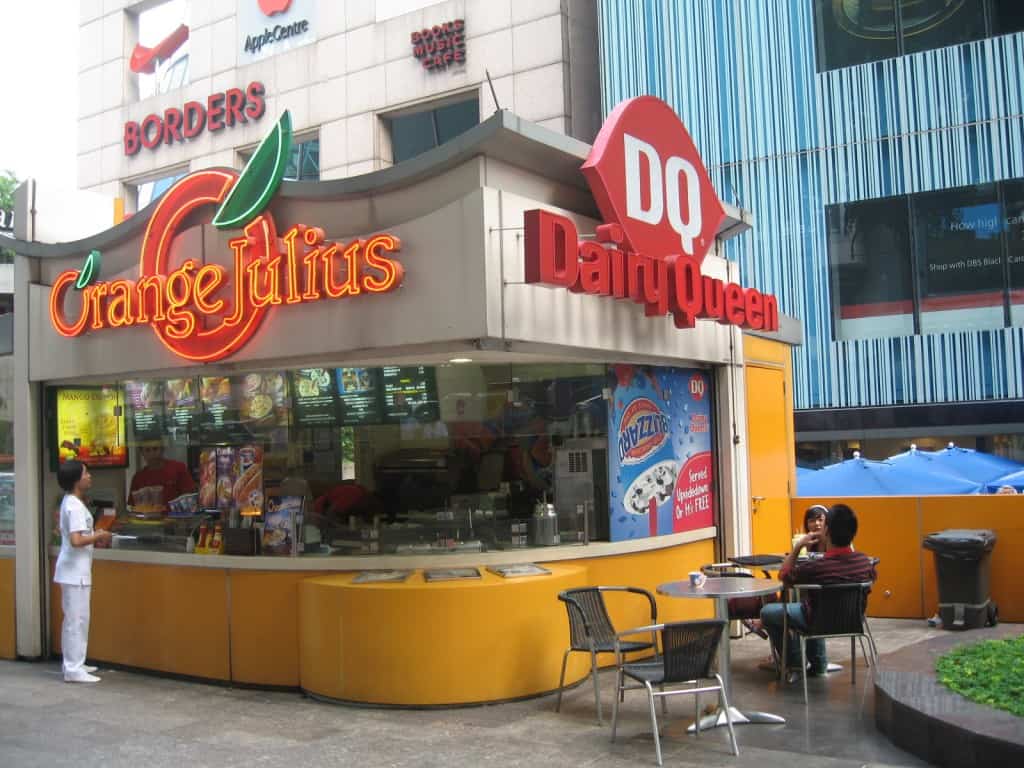 The Big Red Car is headed out for coffee with The Boss and maybe, just maybe a bit of Dairy Queen today.  Who really knows?
But, hey, what the Hell do I know anyway?  I'm just a Big Red Car.
Be kind to yourself and get a Dairy Queen dipped cone.  You will thank a Big Red Car for it, I promise.