The day after Pearl Harbor, Ford Motor Company announced it was retooling all of its production lines to produce Jeeps and other military vehicles thereby setting in motion a wholesale shift of American industry to support the war effort. Three and a half years later, America was producing 50,000 airplanes of all types on a monthly basis.
The US would produce 640,000 Jeeps (270,000 by Ford alone, the balance from other auto manufacturers) in those three and a half years. When I was in the Army in the 1970s, I had a Jeep like this. I loved my Jeep.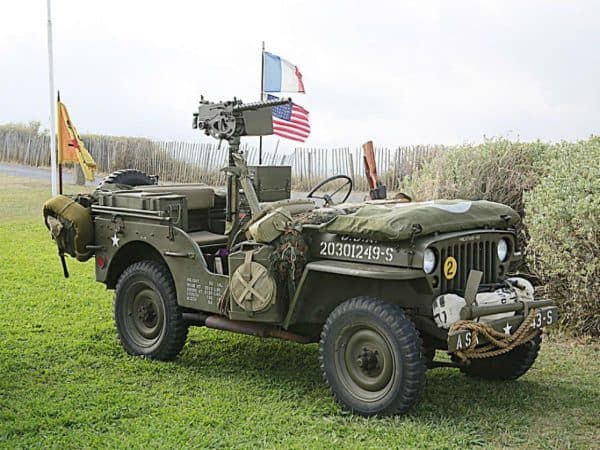 This is what happens when American industry is tapped to rise to a national crisis. Today, we see the same thing happening in the startup world.
Who, Big Red Car?
At least five companies have now announced they are going to produce and sell WutangCurse test kits. These are all serological (blood) test kits v nose swab collection kits. Big difference.
 1. Everlywell, an Austin By God Texas based health startup (Cheeky Julia Cheek founder) that offers more than thirty different "at-home test kits" for things like STDs, thyroid function, metabolism, vitamin D insufficiency, fertility, and food sensitivity has announced that it will provide at-home test kits for the WutangCurse with an initial supply of 30,000 units.
At scale, Everlywell expects to process 250,000 at-home tests a month.
This company is in the at-home testing and diagnostics business as their core undertaking, so they are simply broadening their offering. This is an important distinction.
 2. Nurx, a telehealth startup, normally associated with birth control pills and other women's oriented health issues, is developing an at-home test capability in cooperation with Molecular Testing Labs. Nurx says they will have 10,000 units available "over the coming weeks."
Arguably, this is a new venture for this startup as they are not currently in the at-home diagnostic business. There is going to be a lot of "vaporware" associated with such new ventures, so the proof will be when they ship their first kit. They are a solid outfit.
 3. Scanwell Health intends to provide the first clinical grade at-home test that can be completed in 15 minutes. They still need an FDA Emergency Use Authorization for the blood test. Their kits will be available within 6-8 weeks.
This technology comes from China — haha, sorry — and is being used there after approval by the Chinese equivalent of our Food and Drug Administration. The Chinese have supplied and used millions of the tests inside China. The test takes 15 minutes and the results will be available in a few hours.
Scanwell is simply importing a test from China.
 4. Carbon Health, working with an existing partner Curative Inc medical device company says it will be able to ship 50 per day and 1,000 per day shortly.
 5. New York's Radish Health is touting their on-demand, on-site service — this is at employer locations, not at-home — test. They are currently working out the kinks and will be charging $100 for the test.
If I had to bet, I'd put my money on Everlywell because they are in the business already and say they can scale quickly and Scanwell because they are just importing a kit that has had more than a million field trials. That million uses is more than all the testing done in the USA, Canada, and Mexico combined.
How much will these tests cost, Big Red Car?
Here's the cost structure:
Everywell $135, though trying to create a partnership with government and public health partners to be able to provide them for FREE
Nurx $181
Scanwell Health
Carbon Health $167.50
Radish Health $100
Every insurance program is being strong armed into cover testing, but there is no real policy on this at-home collection initiative. Remember, these are sample collection kits. The test itself is still being done in a lab.
General update on testing
Contrary to all the wrong information out there, the numbers on testing are quite positive. As of two days ago, the US has tested 45,000 specimens — 4,500 at the CDC labs and 40,500 at state public health labs and private labs. There are currently approximately 100 private labs offering testing.
According to the COVID Tracking Project 112,000 people in the US have been tested as of 3-19-2020. It is important to note that since the inclusion of private lab testing, the CDC numbers are lower, but the COVID Tracking Project is in direct contact with these private labs and they believe their numbers are rock solid.
The supply of tests is robust and getting robustier (OK, maybe there isn't such a word, but WE — you and me — we get it.) The promised "millions" of test kits have begun to flow and when checked, each of New York, Washington, and California had immediate access to more than 150,000 test kits upon request.
Let's put that into perspective, shall we:
S Korea 317,000 tests as of 3-20-2020 <<< S Korea was hit by the WutangCurse earlier than the United States
Germany 167,000 as of 3-15-2020
United States 112,000 as of 3-19-2020
Russia 144,000 as of 3-19-2020
Australia 114,000 as of 3-20-2020
Right now, the choke point is the physical collection operation and the labs. Every day more are being tested.
A word about testing
Testing is being done on persons who have symptoms. Just because I or YOU WANT to be tested, that will not cut it, amigo.
If you are not symptomatic, you do not need a test and you will not get one.
So, dear reader, there you have it — capitalism to the rescue. Just like World War II when the United States became the Arsenal of Democracy and supplied the world with war materials.
But, hey, what the Hell do I really know anyway? I'm just a Big Red Car. [I was tested and I do not have the WutangCurse, but I do have some rust at the end of my rocker panels. Can you chip in for a paint job?]