Big Red Car here, y'all. So the first game in the NCAA Basketball Tournament is on tap for Thursday, 16 March 2017 — said the basketball junkie posing as a Big Red Car.
But, what I want to talk about is way more important than our annual fix of basketball (which is important as Hell, don't get me wrong).
What I want to talk about is this: President Trump has not held a public event to fill out his bracket!
As you know, his predecessor, President Obama, was a huge bracket filler-outer (seems a bit awkward, but go with me).
So, I called President Trump and tried to get to the bottom of things. He graciously gave me permission to quote directly from his comments (provided by the NSA and CIA who are conveniently tapping his phones currently).
"So, Mr. President, WTF, over? No Official Presidential Bracket?"
"Big Red Car," the President said. We are old friends from way back.  "No greeting for your pal? No congratulations on the election. Huh?"
"Sorry, that was rude, Mr. President. Please accept my apology. Congratulations on your fabulous election victory. I sent you a card, didn't you get it?"
The President ignored my question and launched the conversation, thusly.
"How is the Big Red Car doing — where in Texas? Austin? Love Austin. Fabulous city. Great barbecue. Love Green Mesquite Barbecue. SXSW down there. They wanted me to come speak to them but they're a bunch of pencil necked snowflakes, so liberal. Losers. OK, what is it?"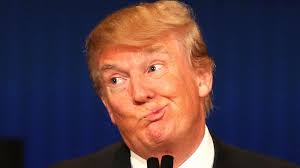 When you talk to President Trump, you have to have your catcher's glove on, catcher's mask, and a cup; he talks fast and you may miss some stuff. Re-read that. Wow!
"Mr. President, why no Official Presidential Bracket? Why?"
"Big Red, you catch my speech over at the joint meeting of the House and Senate? Boffo, no?"
"Sir, that was a fabulous speech. I cannot tell you how many of my friends said, 'He sounds like an adult.'"
"Ahh, Big Red Car, I see what you did there. I thought you were a supporter. Have those crazy liberals in Austin gotten to you? Am I going to have to send you to one of the re-education camps?"
"Do you have those for cars, sir?"
"Why not? Bannon's in charge of them. You want to go? Research? Let me know and I'll put Bannon on it when he gets back from his KKK meeting. That's a joke, Big Red Car. Don't tell anyone but he holds his chapter's meetings in the Map Room downstairs."
"Funny joke, sir. Official Presidential Bracket? Why not?"
"OK, I was just screwing with you. I love to tool the media around, but you're a pal. Hey, I'm busy as Hell up here. I got the Russian situation. That fucking Vladimir Putin is a first class weasel. Never take your eye off him. Then, I've got the whole economy thing. By the way, Big Red, you see those employment numbers? Sweet, eh?"
"Very sweet, Mr. President. You are making real progress."
"Wait a couple of quarters when we get this piece of shit Obamacare repealed and replaced. The economy is going to boom. BOOM!"
The President laughed at his BOOM, which was really, really, really loud. He was on speaker phone, I think. Either that or the NSA and CIA taps were causing a bit of feedback.
"So, Mr. President, that's it? Too busy."
"You're acting like that's not a legit reason, Big Red? You know what I have to deal with — this North Korean guy Kim Il Mojo or something like that. The haircut on that shmoe? Never trust anybody who has hair that bad. Believe me. The guy's a total loser, but Clinton and that bunch let him have nuclear weapons. Now, I have to go in there and deal with it. Have you seen this piece of work? And his Generals? I told Mad Dog I was going to make our Generals — we have the best Generals of any country in the world — start wearing hats like these guys. Mad Dog threatened to kick my ass. How about that appointment? Every country should have a Secretary of Defense called 'Mad Dog.' The guy told me he wants to change his title to Secretary of OFFENSE. Good one, right?"
"Yes, Mr. President, a lot to digest. But, the bracket?"
"Let me clue you in on something. I don't like that adolescent stuff. I'm the President — can you believe that, Big Red? I'm the freakin' President — and I have a lot of very important, adult stuff to do. The progress we are making. Wow! That Rex Tillerson has a set of balls on him, not like that John Kerry. Guy used the ladies room half of the time. Said it was how he felt that day. Huh?"
"So, Mr. President, no Official Presidential Bracket?"
"How many times do I have to tell you, Big Red Car? No bracket. The Donald is crushing it, but sticking to the big league stuff. Brackets? Small ball, Big Red. Total small ball. You got anything else?"
"No, Mr. President. Thank you for taking my call and thank you for your time, sir."
"Get out of here, Big Red Car. You know I love you, right? Tell The Boss I appreciate his voting for me. Gotta go, here comes that ball buster, Kellyanne."
There it is, dear readers. No Official Presidential Bracket, but maybe we can get some Presidential stuff done, eh?
But, hey, what the Hell do I really know anyway? I'm just a Big Red Car. Got to run, looks like the NSA guy is calling. Be good to yourself and watch some hoop. Go Heels!