Big Red Car here on what is going to be another great Texas day, y'all! Why are you not living in Texas? Big Red Car is saving a place for you.
Come on down!
OK, it's only going to get to 70F today and there is a chance of rain but still!
What kind of war should we be waging against ISIS? — somebody asked the Big Red Car.
We should be waging a grown up war where we combat ISIS in every element of their existence that is necessary for them to live and breathe.
Read this article and understand that the United States has intimate knowledge of from whence ISIS wages its social media war and, yet, has done next to nothing — other than to complain to American social media companies to deny ISIS access to these outlets, a fair and appropriate request — to destroy these sites. Physical sites. Buildings with electricity and Internet connections and computers churning out filth. Look at the link below.
Before we go all negative on the administration, let's acknowledge that ISIS is sticking these facilities in locations, in Iraq, Syria, and Libya, where they know the US will be concerned about civilian casualties. This says something about the kind of war that ISIS is waging.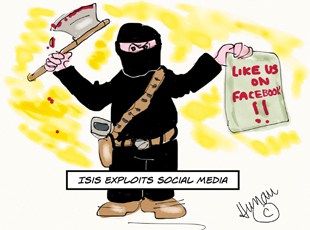 This concern, civilian casualties, is a legitimate concern but not an overriding one. We should be taking these places out with pinpoint accurate laser guided munitions, cruise missiles, or raids. Doing nothing is not the right answer.
Big Red Car, what do you mean by "grown up war"?
Grown up war means that we should be tearing apart all of the critical elements necessary for ISIS to live.
A military force, such as ISIS, must have a leadership element to plan and direct its operations.
DECAPITATE THE LEADERSHIP. HUNT THEM DOWN LIKE DOGS AND KILL THEM.
The leadership must have places to work, sleep, eat, meet.
DESTROY THE HEADQUARTERS PHYSICAL PLANT INCLUDING. TURN OFF THE LIGHTS, POWER, WATER, AIR CONDITIONING, GAS — REINTRODUCE THEM TO THE DARK AGES THEY WANT TO TAKE THE WORLD TO.
The leadership must have the capability to communicate with their subordinate units
DESTROY THE COMMUNICATION INFRASTRUCTURE INCLUDING ELECTRICITY. CUT THEM OFF AND TURN THEM INTO BLIND, DEAF, MUTES
The forces of ISIS must be able to make up their battlefield losses with replacements.
DESTROY THEIR RECRUITMENT CAPABILITIES. DESTROY THEIR TRANSPORTATION CAPABILITIES. DESTROY THEIR TRAINING FACILITIES. DESTROY THEIR SUPPLY DUMPS.
Are you getting the picture?
Make ISIS into a leaderless band of broke leg, blind, deaf, mutes and then whip them like a rented mule.
Industrial war college
Much of what is outlined above, falls under the category of waging industrial war. The United States has a school called the Dwight D. Eisenhower School for National Security and Resource Strategy. It used to be called the Industrial War College or the Industrial College of the Armed Forces.
It came about because of the American effort to procure warfighting materiel and force mobilization challenges in World War II.
The US was the "arsenal of democracy" for the Allies and protected by the Pacific and Atlantic oceans, the US produced an incredible amount of "stuff."
As an example, the US was capable of producing less than a couple of thousand aircraft annually in 1939 and by the end of the war had produced 300,000 aircraft with some 39,000 going to the Brits and 15,000 going to the Russians and 6,000 going to other allies fighting primarily the Japs.
We not only produced enough for ourselves but enough for our allies.
This was an industrial strategy.
World War II was won as much in the machine shops and factories of America as it was won on foreign battlefields.
The converse of this is also true. The allies attempted to destroy the industrial capabilities of the Axis powers.
An industrial strategy to destroy ISIS
The war on ISIS needs a purely industrial component to be integrated with the tip of the bayonet to destroy the ability of ISIS to eat and breathe.
This is the other side of the mirror of the American ability to wage total — grown up — industrial war.
Let me clue you into a little secret.
Remember when we were talking about bombing Iran's nuclear enrichment program?
The smart money was on destroying the power plants that made the centrifuges turn. Don't bother to hit the facilities in the belly of the mountain — destroy the power plants up on the surface which are generating the power to make those centrifuges work. That is a derivative of an "industrial" warfare strategy.
Come on, Big Red Car, it can't be that easy! Can it?
Dear reader, it can be that easy. Let me give you some specific examples.
1. Decapitate the leadership and make it very unattractive to take a job as an ISIS leader.
2. Follow all of their communications home and destroy the keyboards and the fingers on the keyboards. Knock out their Internet connections, their routers, their social media accounts. Make being an ISIS geek a very bad career move.
3. Destroy the fuel supply that runs their vehicles.
4. Knock out water, power, sewer, gas, Internet service, cable TV, and transportation that supports their operations wherever it is found.
5. Force ISIS to make up battlefield losses on the run and then destroy their capabilities to recruit, train, deploy, and command the replacements.
6. Eliminate their ability to replace ammunition and to deliver replacement weapons.
Conduct a grown up war on these shitheads.
What's the secret sauce here, Big Red Car?
The secret sauce is threefold, dear reader.
1. We must have thoughtful leaders who are ready to declare this is a real war. Stop pussyfooting around playing games. Buy some vowels. Rent some cojones. Stop worrying about word games and make war. Grown up war.
2. We must commit to a grown up war.
3. We need solid, actionable intel and we have to use it.
It does us no good to know where the ISIS social media geeks are hanging out if we don't get down there and spank those skinny leg jeans wearing nerds to death. We have to act on the intel and do it brutally and quickly and with a bit of fanfare. The message should be easy — "You touch a keyboard to the benefit of ISIS, we kill you."
Destroy the Cyber Calphate!
But, hey, what the Hell do I really know anyway? I'm just a Big Red Car. Be good to yourself today because there's a lot of evil loose in the world and the world is counting on you to do your part.