So, today, we speak of Buc-ees, a Texas phenomenon in which an Old School Idea is scaled like it was the hottest tech going.
Really, Big Red Car? Buc-ees?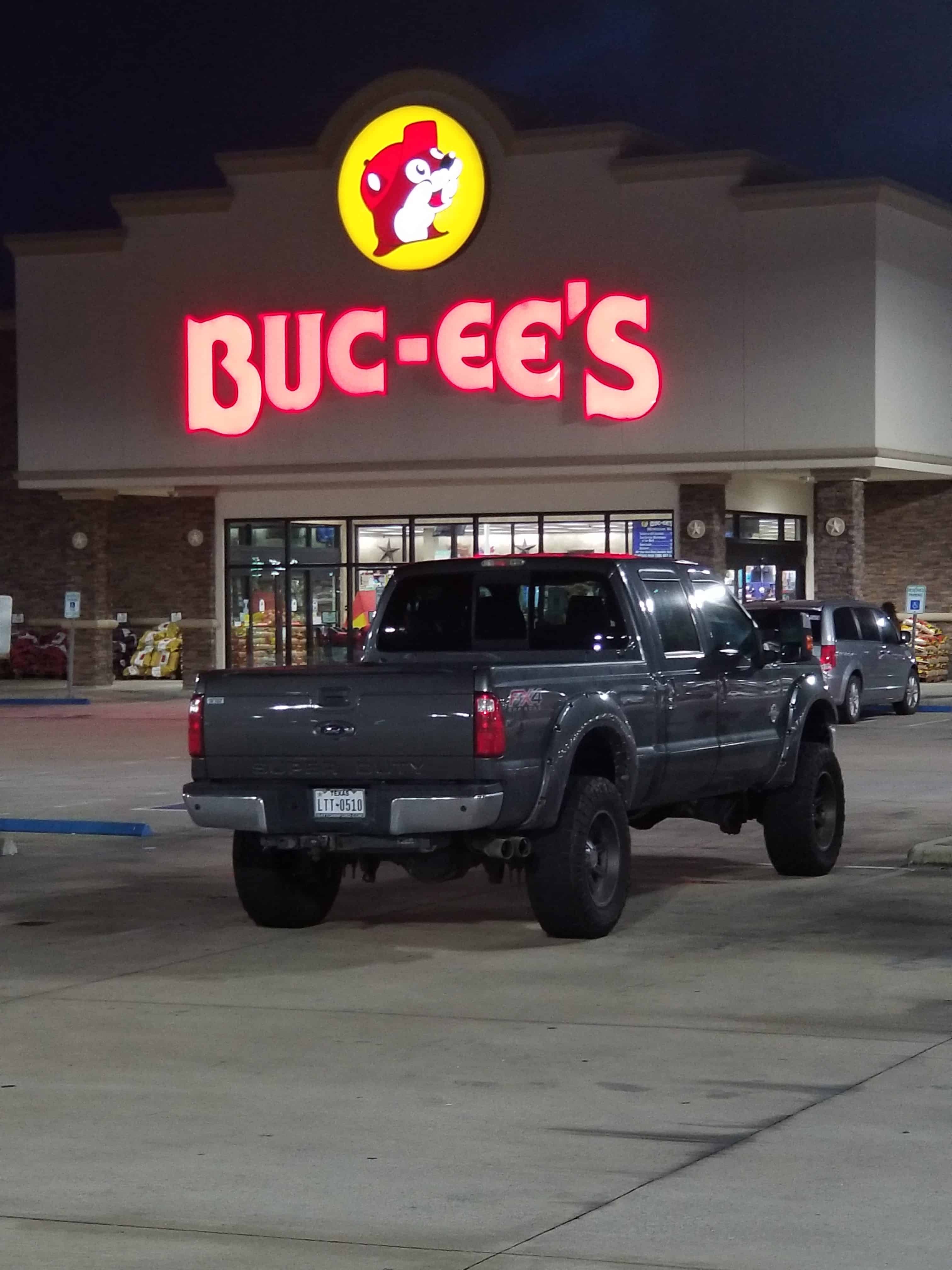 Buc-ees is a company that could only be in Texas because it is that BIG! It is a gigantic fuel station and a huge store with the CLEANEST BATHROOMS ON THE PLANET.
OK, Big Red Car, give me the facts
Dear reader, I am excited about Buc-ees because it is a classic example of scaling an Old School Business.
Here is what their fuel lines look like. One hundred pumps. Most times they are full with folks taking on fuel. I paid right at $2/gallon which was very competitive.
This was one evening when the Big Red Car was escaping from Texas toward Florida. Notice the number of road tripping SUVs and pickups. This is, of course, Texas.
Buc-ees was started by two Texans: Arch "Beaver" Aplin III and Don Wesek in Lake Jackson, Texas in 1982. Here is the mother ship. Notice any branding changes?
They hit their "super sized" stride in 2001 — took them 20 years to create and perfect the model, to develop the brand — with a model that would offer 80-120 fueling pumps and a large selection of beef jerky, candy, pastries, fresh sandwiches, tacos, BBQ, ice cream, coffee, and fountain drinks. That description doesn't do it justice, believe me.
Here's Beaver Aplin looking smart. Notice he has his hands in his own pockets.
Buc-ees is a deli, a BBQ, a tacoria, a coffee shop, car washes, Texas themed apparel, BBQ smokers, and all the trail mix kind of crap you can imagine.
In 2012 in New Braunfels, Texas (between Austin and San Antonio on Interstate 35), Buc-ees plunked down a 68,000 SF facility with 120 fueling positions, 83 toilets, 31 cash registers, 4 Icee machines, 80 fountain drink dispensers, and the cleanest bathrooms in America according to Cintas.
[Notice one other thing — no trucks. Only cars, SUVs, and pickups.]
Buc-ees won the "Best Bathroom in America" award for 2012 — the New Braunfels facility. In my view, this is the key to their success — a bathroom as private, quiet, pleasant smelling, and clean as yours at home.
They now have 35 locations and are starting to spread outside Texas to Louisiana, Alabama, and Florida.
What else, Big Red Car?
OK, there is something else and here it is. When an Old Economy Business scales, they create good jobs. Look at this.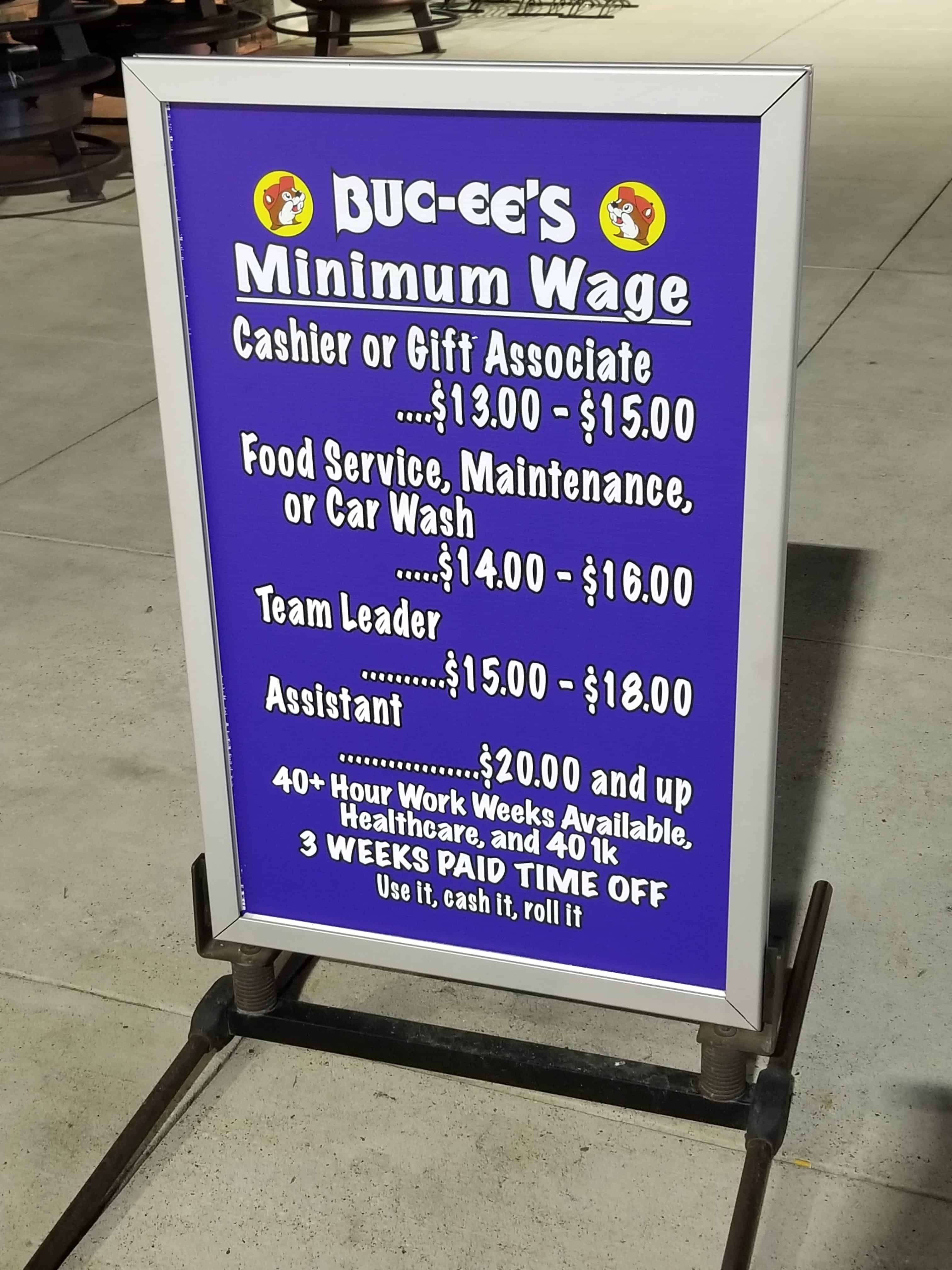 These are entry level — new hire — wages. This is NOT minimum wage. This is what successful companies offer — good wages far surpassing any idea of minimum wage and good benefits. Notice that Buc-ees provides healthcare? Yes, they do.
Sum it up, Big Red Car
OK, dear reader, a few takeaways:
 1. Old School Businesses can be taught to scale.
 2. It takes some time — 20 years for Buc-ees — to develop the business and the brand.
 3. Do not be in a rush to transform an Old School Business to a New School Business. Take your time.
 4. Brand and brand awareness can drive market recognition and growth.
 5. Having clean bathrooms can be a key to a business as pedestrian and mundane as the convenience store/fuel business. Huge unique selling advantage and, yet, others overlooked the possibilities.
 6. An Old School Business transforming to a New School Business — a New Economy Business, I should say — can be a huge job driver at attractive wages. This was Beaver Aplin and his partner, Don Wesek, not a Democrat presidential candidate who drove these wages. Good old fashioned free market capitalism at work.
 7. Do not fear the Beaver.
So, there you have it. A seemingly pedestrian and mundane Old School Business that is scaling like a tsunami offering good jobs, good wages, and good benefits.
Is this a great country or what? Say goodnight to Bucky.
But, hey, what the Hell do I know anyway? I'm just a Big Red Car who likes clean bathrooms, cheap gas, and a clean Old School Business that understands how to scale. Bravo, Bucky!