After a blood bath with the failed WeWork, the IPO market is coming back for another IQ test — how stupid are you?
This is not a drill.
Comes hither our sleepy friends Casper, the mattress folks.
Casper isn't spooked by IPO woes
Could investors ghost the Casper IPO?
Spooky.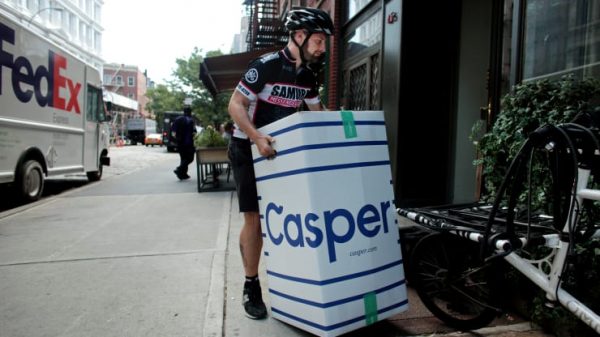 Basic facts, please, Big Red Car
Here are some basic facts:
 1. Casper is NOT a mattress company; they are THE "pioneer of the sleep economy." Huh?
Before we go any further, if you value our relationship, do NOT tell me Casper is a tech company. Promise?
 2. Like a lot of recent unicorn IPOs, Casper is not profitable — $92MM loss on revenues of $358MM in 2018.
 3. Casper spent more than 73% of its gross profit in 2018 on marketing and sales. Wow.
 4. The company has used more than $340MM in venture funding to get to this glorious position of losing only $92MM a year. This supposedly valued the company at $1.1MM the last time it went to the well for VC $$$.
 5. In line with that "pioneer of the sleep economy" meme, the company threatens to go into the medical device and pajamas business.
[Full disclosure, I get my PJs from LL Bean. They are plaid flannel and match my fleece lined bathrobe. I only wear them in the winter time, especially when I go skiing. They are warm as Hell and will last me for the rest of this life. I may get some black silk PJs with a white rolled edge and a handkerchief in my pocket. I am still thinking about this. I want to see the next James Bond movie before making a final decision.]
 6. Casper in its risk disclosures indicates it could get savaged by unruly social media bullies. It's a mob out there. However, Casper may give Instagram (have to figure this covers Twitter and Snapchat, no?) influencers free stuff to avert this crisis.
 7. Casper informs us that the Sleep Economy is $432B (in 2019, headed to $585B in 2024) while the US Sleep Economy is $79B. Who is doing all this sleeping if not the USA?
WTF is the Sleep Economy, Big Red Car?
Come now, my good person, the Sleep Economy is mattresses, pillows, bedding, bed frames, weighted blankets, lamps as well as white noise machines, room diffusers, humidifiers, sleep trackers, bedside clocks, sleep apps, meditation apps, counseling apps, and supplements.
I think it also includes pajamas. Who doesn't want to disrupt the $32B pajamas market? Talking to you, Lake Pajamas <<< go ahead, it's one of those hypersonic links.
Where are the sleep pods? The doggy beds?
Any competition, Big Red Car?
Yes, dear reader. The top ten mattress companies are these:
 1. Puffy Lux
 2. Tempur-Pedic
 3. purple
 4. amerisleep
 5. leesa
 6. sleep number
 7. GhostBed
 8. BEAR
 9. saatva
 10. nectar
Notice who is not mentioned? Hmmm.
Casper does make a list of the top five mattresses on one website I found. Casper does have more Twitter followers than any other mattress companies I reviewed.
Casper sent out 137 Tweets in the last 30 days with 11.6 average likes and an engagement rate of 54.74% with an Alexa rank of 33,613. 
Wait for it — there are more than 175 online mattress companies according to this article on CNBC:
Bottom line it, Big Red Car
Comes again an IPO with a unicorn absurdity to test whether the IPO market has learned anything. They lost $92MM on $358MM in gross revenue.
So, how stupid are you, America? Sleep on it and come see me in the morning.
This is not a drill.
But, hey, what the Hell do I really know anyway? I'm just a Big Red Car. I think you may get a chance to own this stock at a cheaper price than the IPO in the weeks after the blessed event.