The United States is a large country with distinct regions defined by geography — coastal, mountains, plains, lakes (talking to you, Great Lakes), regional dialect, the nature of their favored BBQ and their sauce (beef, pork, chicken, tomato, mustard, vinegar with or without slaw), and, apparently their basic intelligence.
Let me propose for the example of an inferior native intelligence the entire State of New York, but with a special shout out to the capital in Albany.
The NY Legislature — as corrupt a legislature as there is in the United States though Illinois seems to be the front runner — in their infinite wisdom decided to do away with bail for entire classes of criminals. These are criminals for whom a "get out on bail" card most recently would have been a very tough sell.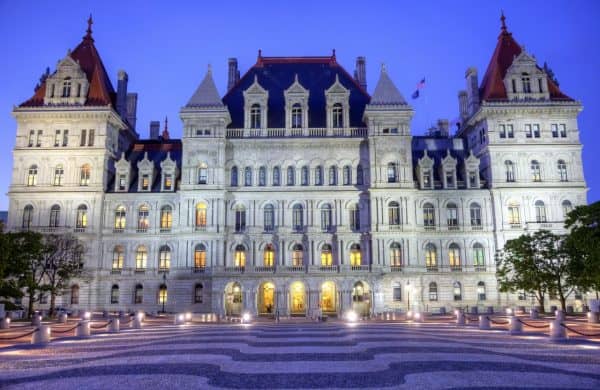 These chaps and their crimes fall into the classification of:
 1. illegal weapons possession;
 2. drug trafficking such as fentanyl, heroin, meth;
 3. hate crime assaults;
 4. assault and violent crimes;
 5. promotion of child prostitution;
 6. serial arson; and,
 7. burglaries and robberies.
This huge change in the bail laws was championed by folks such as Carl Heastie, the Democratic Assembly Speaker, as creating a "more fair justice system for low-income and impoverished people accused of a crime."
Come on, Big Red Car — how does this work?
In the end of January 2020, six men were arrested by the New York Drug Enforcement Task Force and accused of running a fentanyl distribution ring from a Sedgwick Avenue apartment apartment (well known as a heroin and fentanyl packaging mill) in Kingsbridge (NW Bronx).
The defendants were in possession of $7,000,000 street value of fentanyl that they were packaging in glassine envelopes and branding with the word "fire." This is a lot of fentanyl.
They were ambitious businessmen and were distributing to both New York City and New England (Boston).
When charged with criminal possession of a controlled substance, criminal possession of a controlled substance with the intent to distribute, and criminal use of drug paraphernalia, the prosecuting attorney told the court the defendants were not eligible for bail.
The court — riding the wisdom of the changed law — ORDERED THEM RELEASED.
The defendants:  Livo Valdez, Jaslin Baldera, Frederick Baldera, Frandi Ledema, Diego Tejada and Parfraimy Antonio walked out of their criminal arraignment as free men. Back on the streets as free men immediately.
The gentlemen are of Dominican Republic heritage and were ordered to turn in their passports.
This is how this law in New York works. It returns alleged criminals to the streets with no impediment to flee or to re-engage in their wayward conduct.
Is this a great law or what? Don't YOU feel safer? More virtuous?
So, my nominee for Absurdity in Regional Stupidity is the NY Legislature that passed this idiotic law with special notice for Carl Heastie.
Do you have a nominee for Absurdity in Regional Stupidity? If so, send it this way and we'll highlight it.
But, hey, what the Hell do I really know anyway? I'm just a Big Red Car.
Have a great week.