Yesterday was MLK Day, a holiday initiated by Ronald Reagan to honor Martin Luther King, an iconic American civil rights leader. Today, we revisit the man but with a different lens — Martin Luther King, the startup entrepreneur and leader.
King, famously, brought the concepts of civil disobedience and non-violent protest to what had been an extraordinarily violent subject. In this manner, he converted a vision into action without damaging the world in the process.
In Vietnam, some wag said, "We had to destroy the village to save it." King said, "We have to save the country without doing any damage along the way."
Martin Luther King, the brand
Today, observers would wax eloquent about how King created the Southern Christian Leadership Conference as his "brand."
There was genius at work there as it harnessed the religiosity of the South while allying itself with the success of similar white preachers such as Billy Graham. Take note of the clever use of the word "Christian" in its name. From the beginning in 1957, King saw this powerful linkage. Already, he was a gifted orator, but he also had authentic credentials as a preacher and a man of God due to his seminary education.
There is a funny story of a time when MLK was arrested (he was arrested 29 times) and the Chief of Police (and Billy Graham) paid his bail to regain control of his jail which was filled to overflowing with non-violent protesters. King claimed he was the only civil rights leader who was "thrown out of a jail."
King was careful who he allied the SCLC with and made some enemies along the way — Malcolm X being one — because he disavowed any form of violence.
Martin Luther King, the campaigner
MLK approached his vision as a series of distinct and individual campaigns wherein he could marshal his forces, undertake his peaceful protest, and effect change. In this tactic, he was like a general (talking to you George Washington, Father of the Nation) plotting out and executing a series of battles, each subsequent battle building on the prior engagement.
With the hindsight of history, one could argue that the battle plan looked like this:
The Albany Movement, 1961, a segregation protest that got out of control ending with King jailed. This is the one wherein the Chief of Police and Billy Graham bailed him out when King chose jail over a monetary fine.
The Birmingham Campaign, 1963, used mass protests, sit-ins, and press exposure to get the city to negotiate on matters pertaining to segregation. Famously, Bull Connor turned the fire hoses and German shepherds loose on the protesters which awoke the nation's sense of outrage. It was from jail in Birmingham that King wrote his famous "Letter from Birmingham Jail, a manifesto of the American civil rights movement. [BTW, Bull Connor got fired over this mess.]
March on Washington, 1963, was a combined effort of the "Big Six" civil rights organizations — the NAACP, the National Urban League, Brotherhood of Sleeping Car Porters, the SNCC, and the Congress of Racial Equality. This gave rise to King's famous "I Have a Dream" speech.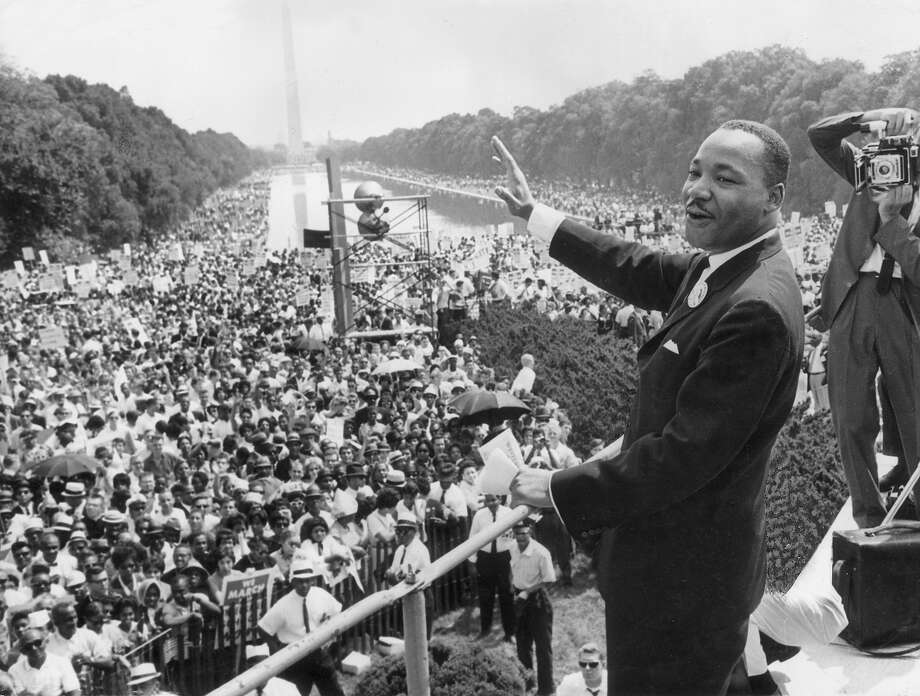 The St Augustine, Florida Campaign, 1964, during which the 1964 Civil Rights Act was passed by the US Congress.
The Selma, Alabama Campaign, 1964, in which the SCLC allied itself with the Student Nonviolent Coordinating Committee around the issue of voter registration. The power of the voting booth was an important element of the civil rights movement. The 1965 Voting Rights Act was the beginning of the coalescence of the power of the black vote in American politics, a legacy of King's that is often overlooked.
New York City Campaign, 1964, a lecture King gave at the New School on "The American Race Crisis."
Selma Voting Rights Movement — Bloody Sunday — 1965, in which King (with the SNCC) attempted to march from Selma to Montgomery, but was thwarted by mob and police violence thereby creating a stark comparison with King's non-violent approach. This revealed Alabama as a violent racist environment.
There were three distinct attempts to march, the second one of which started and ended on the Edmund Pettus Bridge when King disbanded the marchers in order not to violate a court order. Eventually, they made it to Montgomery whereat King gave his famous "How Long, Not Long" speech about the aspirations of African Americans for equal rights. I contained the famous phrase, "… because the arc of the moral universe is long, but it bends toward justice."
Chicago Open Housing Movement, 1966, was an unusual campaign because it targeted a northern city and its discriminatory housing practices. It turned out that the reaction in the north was far more violent than the south which some say was evidence of southern sympathy amongst white people as driven by the likes of Billy Graham.
This effort gave rise to the career of Jesse Jackson who was left in Chicago to continue the efforts through a project called "Operation Breadbasket" targeting grocery stores that did not treat African Americans equally.
Poor People's Campaign, 1968, which targeted the US Capitol as a locus of protest. This was a broad political appeal that attempted to get Congress to open their checkbook for poor communities, not a targeted civil rights campaign.
What your Big Red Car intends to demonstrate is the orderly approach that King adopted over a protracted period of time, how finely focused his campaigns were, and how he stuck to his non-violent, civil disobedience principles.
Martin Luther King, the great communicator
Martin Luther King was a great thinker, orator, and writer. Amongst his books were:
Strength to Love. New York: Harper & Row Publishers, 1963. This is a collection of Dr. King's most requested sermons.
Stride Toward Freedom: The Montgomery Story. New York: Harper & Row Publishers, 1958. Dr. King's first book; the story of the Montgomery Bus Boycott and the beginning of the Nonviolent Civil Rights Movement.
The Trumpet of Conscience. New York: Harper & Row Publishers, 1968. (Foreword by Coretta Scott King.) This book is taken from the 1967 Massey Lectures which King gave through the Canadian Broadcasting Corporation. King addresses issues including the Vietnam War, youth and civil disobedience and concludes with the "Christmas Sermon for Peace."
Where Do We Go From Here: Chaos or Community? New York: Harper & Row Publishers, 1967. An assessment of America's priorities and a warning that they need to be re-ordered.
Why We Can't Wait. New York: Harper & Row Publishers, 1963. The essential writings of Martin Luther King, Jr. , James M. Washington, ed.
King's "Letter from Birmingham Jail" is a manifesto that outlines why it was essential that the civil rights movement adhere to the principles of non-violence and civil disobedience and why it was important to operate within the constraints of the law. King's "I Have a Dream" speech is one of the best speeches ever given in the English language and conveys the hopes of a people and a nation.
Martin Luther King, the intellectual and thinker
King called upon what he learned about Ghandi on a trip to India to refine his non-violent, civil disobedience strategy. Coupled with a determination to operate within the confines of the law — giving rise to the 1964 Civil Rights Act and the 1965 Voting Rights Act — even when in confrontation with corrupt governmental entities, these intellectual stepping stones made the journey orderly and precise without creating animosity through violence, a view that was not universally held during these years that bridged the anger of the nascent Vietnam War.
Bottom line it, Big Red Car
Dear reader, when one holds up their "entrepreneurial" lens to the life of Martin Luther King, one finds a visionary, a leader who led from principle with an intellectually sound basis for every action he took. He created an organization which led a movement which created a winning brand.
King was a well-educated man with a doctorate from Boston University. None of this happened by accident. It was a triumph of entrepreneurial zeal and impassioned leadership. It was and remains a uniquely American story.
But, hey, what the Hell do I really know anyway? I'm just a Big Red Car. Be good to each other. I need a paint job.