I like the ride sharing business and use both Lyft and Uber, probably more Uber. It is very convenient when I have to go downtown for a meeting. It is cheaper than the cost of parking and less stressful.
I am concerned about the prospect of Uber ever — EVER — becoming profitable. You have to ask yourself how a company can come public at a huge value when they are neither profitable nor are they likely to be in the near term.
But, what really concerns me is the rate of growth of Uber revenues. Look at this graph.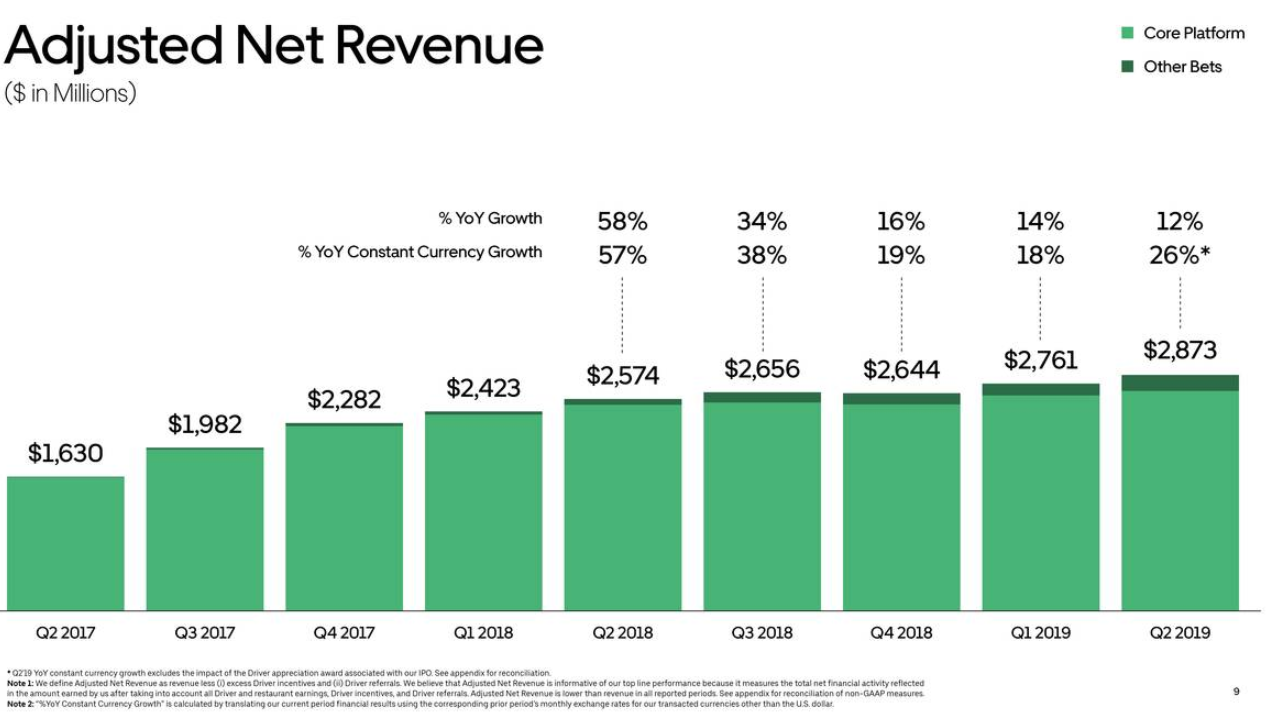 There are other indicators that paint a better picture, but at some point the big issue is how much money is coming in? If you look at the line "% YoY Growth" you can see the embers cooling as it relates to revenue growth. A 12% growth rate Year Over Year is not going to cut the mustard.
A company like Uber pencil whips its GAAP earnings into something they called "adjusted" earnings. Their GAAP earnings were awful (an IPO and non-cash compensation will do that to you) and their adjusted earnings were still a mess.
Uber reported a GAAP loss of $5,200,000,000 — $5.2B. After pencil whipping it, the adjusted loss was $656,000,000. The stock went down about 7%.
Lyft reported a GAAP loss of $644,200,000. They took their IPO hit in the prior quarter. For the year, Lyft predicted a better performance with its annual loss projected to be $850-890,000,000, a $300MM improvement from a prior prediction, and better than the actual 2018 loss of $911MM.
These are huge losses.
Oddity: The Lyft insider lockup period is about to expire and there will be insiders selling. Speaking of insiders, the Lyft COO (after 18 months) and the CMO (after 8 months) are both leaving. Never a good sign when folks abandon the C Suite, no?
Both of these companies announced that they will be raising prices. They had been conducting a bit of a price war until now.
Bottom line it, Big Red Car
I am amazed that these two companies can sustain their market caps with such enormous losses. I don't see them performing much better in the future and the slow rate of revenue growth puts breakeven many years in the future. Are shareholders that patient?
It feels a little "Emperor's New Duds" to me.
But, hey, what the Hell do I really know anyway? I'm just a Big Red Car.