Big Red Car here.  OK, so Friday was National Pecan Pie Day and did you celebrate it?
No you did not, Old Sport.  Shame on you.  You need to be involved in the big issues of your times.  Like National Pecan Pie Day — hahah, Big Red Car, you crack yourself up.
The Big Red Car will be the first to admit that anything other than some nice slippery 10W30 with a splash of Regular, low octane mind you, does not really appeal to the Big Red Car.  You knew that, right, ya'll?
But pecan pie is a big deal here in the Great State of Texas.  A big deal indeed.  You could say we're nuts about it.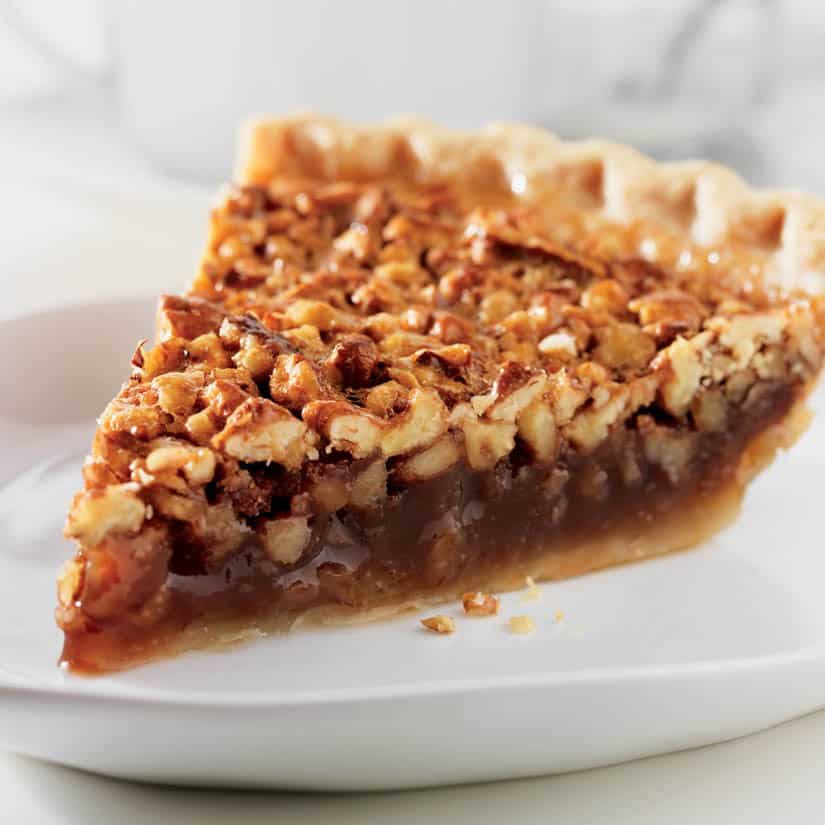 Yes, we are nuts about our pecan pie.  Look at that picture.  Can you hear it?  "Look into my nuts.  Smell my nutty flavor.  Savor my nutty goodness.  Eat me!"
Pecans
Texas is the #2 pecan producer in the United States with annual production of 30-70mm pounds annually.  Texas produces approximately 20% of all the pecans in the United States.
Pecan production is very sensitive to growing conditions and outputs can fluctuate wildly with drought conditions.  Texas has been struggling with a drought for the last few years.  [Global warming?  Never happened when George Bush was President.  Haha, Big Red Car, keep it clean today.  Don't be stirring the folks up.]
Georgia is the number one pecan producer in the country.  Georgia is a little state.  Texas is a great big state.
The United States exports a lot of pecans to countries like China, Viet Nam and Hong Kong.  [Hell, the Big Red Car thinks of Hong Kong just like another part of China since those Chinese fellows own the damn place.  WTF sayeth the Big Red Car?]
Pecans will sell for $10-20 per pound shelled retail and about $2 wholesale in the shell and like all food crops the price dips a bit when the crop comes in — ending in November.  It also fluctuates around Thanksgiving and Christmas, days when pecan pie is being consumed en masse.  What would Turkey Day or Christmas be without pecan pie?
The pecan mojo
Growing pecans in Texas is a damn big business and places like Texas A & M — the "A" being Aggie-cricultural — are educating folks how to do it.  It is like any other plant genetics undertaking.  You have to know how to grow them.  Texas A & M can teach you.  Gig 'Em, Aggies!
You want to grow and sell pecans in Texas you are going to have to learn how to pick a good piece of dirt, get your trees in ($2-3,000 per acre including irrigation), get some water (2″ per week in the growing season), deal with diseases, fight the bugs and then spend about $600/acre operating your orchard.  This means you are going to have to yield about 4-500 pounds of pecans to break even.
When you are all done then you have to pick them (sometimes by using a tree shaker to grab the tree and shake the nuts out of it, literally) and then market them.
Whew, Big Red Car, I'm bone tired just reading about it.
Here's the oddest thing about pecans — they have alternating "big" and "small" crops.  One year they are prolific producers and the next year there is a paucity of production.  [Huh?  Sounds like pecans have a bit of attitude, Big Red Car.  Right you are, Old Sport.  Pecans are fickle.  Just like every damn thing in Texas.]
So there you have it.  Now aren't you sad you didn't celebrate National Pecan Pie Day?  The Big Red Car promises not to rat you out if you get a nice slab of pecan pie and some Bluebell ice cream today.  Hell, it's only Saturday.
But, hey, what the Hell do I know anyway?  I'm just a Big Red Car.  Get some pie, Pilgrim.  You deserve it.