We Americans are a tough people. Hard to believe that when you see what a bunch of victims and cupcakes we see on the Internet, but at our core, we are resolute survivors.
I used to ask my father if he thought my generation could have fought and won World War II. He received a battlefield commission in Italy running a Cannon Company shooting it out daily with Kraut 88s while in his twenties.
He would get a solemn look on his face and say, "The sons of tigers are tigers." I never really understood what he meant.
I recently read something sent from a pal and it hit home on the subject. It focused on who we were back in 1969, half a century ago. Most of y'all weren't born then, but I was a cadet at Virginia Military Institute, the Vietnam War was raging, in the mess hall there were moments of silence for VMI men killed in that war, and the country was aflame with riots.
I like to tell people today, "You have no idea what a proper riot looks like, Ace. You should have seen the Vietnam War riots. Now, those were riots."
So, what was going on in 1969, Big Red Car?
OK, so you're calling me out? Here goes:
 1. The United States was at war in Vietnam, a conflict that would ultimately cost 59,000 American KIAs. In 1969, we had 11,616 KIAs.
To put that in perspective the US has lost 6,951 KIAs since 9-11 in both Iraq and Afghanistan.
The US had 549,500 troops in country in 1969 from a total military of approximately 3,500,000.  Today the Army is fewer than 450,000 soldiers.
It would take six more years for the US to extricate itself from what had been its longest war. The emotional impact of Vietnam continues to this day.
 2. We had riots. There were riots at UC Berkeley at which California National Guard choppers overflew the campus and sprayed tear gas on the rioters.
A coordinated effort was undertaken to fill America's largest cities with protests under the banner of The Moratorium to End the War in Vietnam. More than half a million rioters protested in front of the White House.
The DC riots were particularly virulent as we had had enormous riots in 1968 in DC after the assassination of Martin Luther King. Here is a pic from the 1968 riots.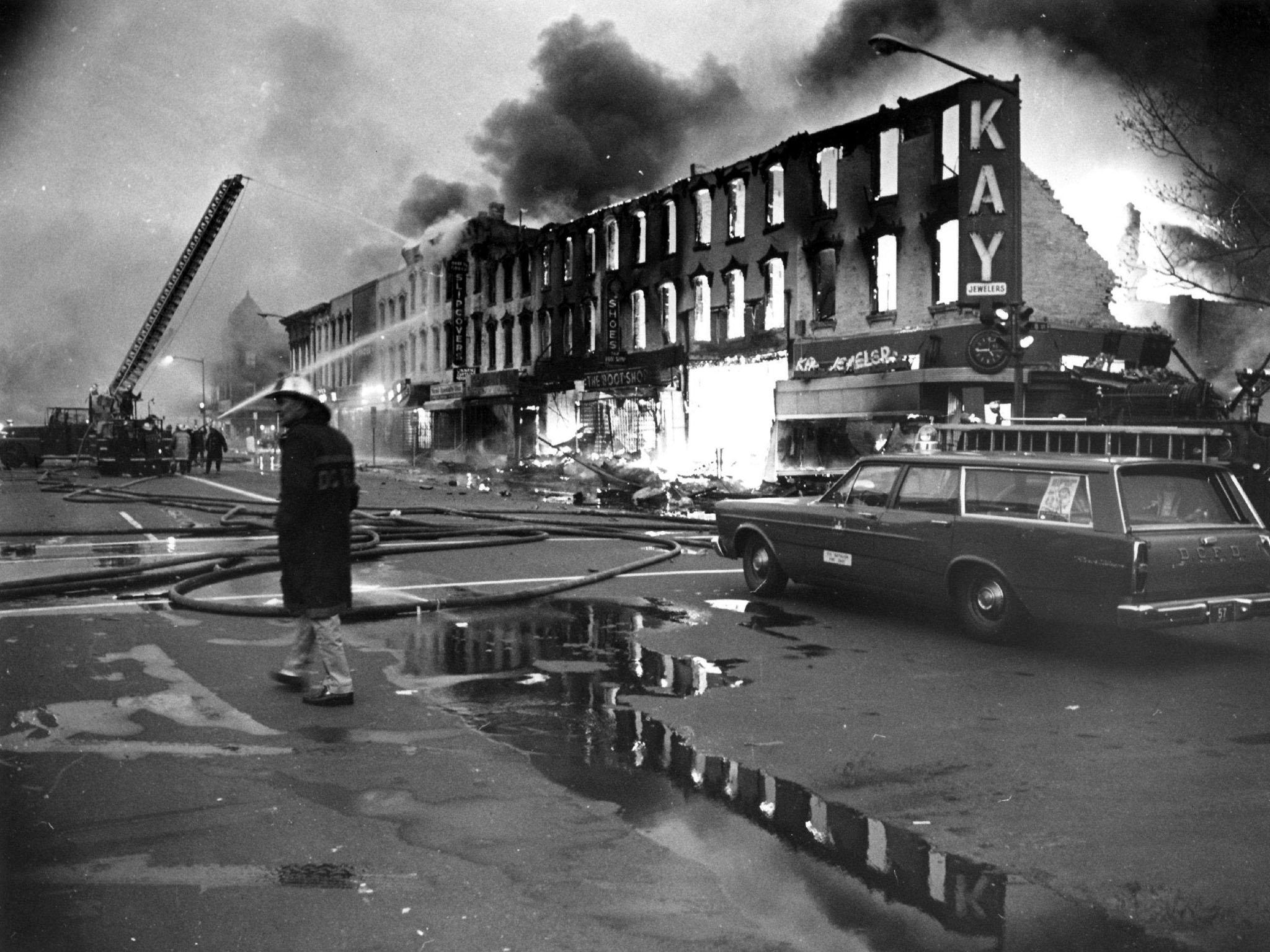 The Mayor of DC called out the National Guard and 2,000 paratroopers of the 82nd Airborne Division arrived to help.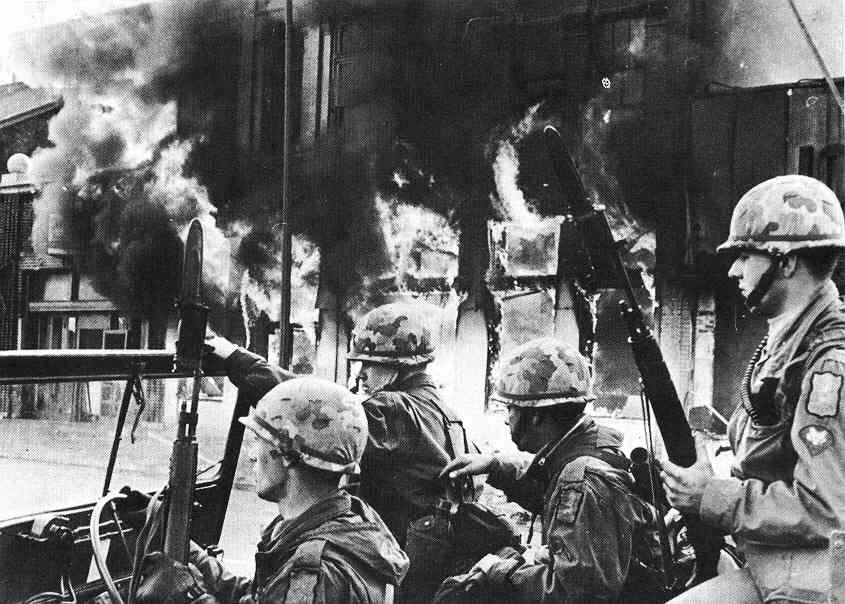 3. Native Americans seized Alcatraz Island Prison in San Francisco Bay and occupied it for nineteen months saying it was sovereign territory.
 4. In Vietnam the My Lai Massacre was revealed in all of its horrific, bloody evil. This set the tone for the debate of the morality of the entire Vietnam War.
An OCS lieutenant platoon leader, William Calley, (C Co, 1st Bn, 20 Inf Reg, 11th Bde, 23rd Div (Americal) oversaw the massacre of up to 500 women, children, and infants. This soulless thug directed his men to fire at point blank range into groups of civilians cowering in irrigation ditches.
A helicopter pilot, then Warrant Officer Hugh Thompson, Jr., flying over the massacre landed his chopper between the murderers and their victims, daring them to shoot him.
He reported the massacre and was vilified by the Army, but he stuck to his guns. The Army tried its best to cover up My Lai, but it finally came out. It was a huge bad mark against the Army. The cover up and those who participated in it was an act of unspeakable cowardice and evil.
This is what a real hero looks like.
The son-of-a-bitch, Lieutenant Calley, was sentenced to life and served three and a half years under house arrest at Fort Benning. He should have been executed. Every officer of that time frame was dishonored by this incident and how it was handled.
No other soldier was punished.
 5. Woodstock — 400,000 revelers in the Catskills in the month of August for three days of peace, music, free love, and free drugs. This party shocked America's last vestiges of Puritanism. No, it was not in Woodstock, Vermont.
 6. Teddy Kennedy killed Mary Jo Kopechne when he drove a car off a bridge in Chappaquiddick Island, Massachusetts and left her to drown. Ten hours later, Teddy reported the "incident."
The Kennedy family demonstrated how powerful they were when Teddy walked away with a citation for "leaving the scene of an accident." He admitted his guilty and was sentenced to two months in jail, and had the sentence suspended.
This was an exercise in raw political power and the media reported it and gave him a free pass because he was a Kennedy.
The parents of Kopechne received a settlement of $90,904 from Teddy and $50,000 from the insurance company. The Kopechne's were pissed but took some solace that their daughter's death prevented Teddy from becoming President.
Teddy went on to be anointed the liberal "Lion of the Senate." He was routinely re-elected and served from 1962 to 2009, for forty-one years after he left Mary Jo Kopechne to drown.
 7. Charles Manson and his family slaughtered seven victims in Los Angeles amongst them the actress Sharon Tate. The intent of Manson and his followers was to start a race war in the country.
 8. The United States put a man on the moon — not once, but three times. The Apollo missions proved American technology and aerospace expertise were unsurpassed.
 9. The US GDP topped one trillion dollars for the first time.
 10. Boeing launched the 747 that hauled 400 passengers. It took Airbus 35 years to catch up when they flew the Airbus A380.
 11. The first whiff of the Internet was smelled when UCLA and Stanford launched ARPANET.
 12. A sweet American girl from Milwaukee, Wisconsin, became the Prime Minister of Israel. Her name was Golda Meir.
She would save her nation in 1973 when she cajoled President Nixon to send tanks and ammunition as the Syrians were pressing to capture Tel Aviv.
 13. More than 250 Americans died on the Mississippi coast when Hurricane Camille roared ashore.
 14. Wal-Mart incorporated as Wal-Mart Stores, Inc.
So, here's the bottom line, y'all. Half a century ago, we Americans were wrestling with huge issues that tore our country apart on a daily basis. Today doesn't feel as desperate to me. I was a cadet at Virginia Military Institute in 1969 and was being trained for a war I was certain would be over by the time I was finished. Turned out to be wrong on that one.
We're going to make it, y'all. Why? Because the sons and daughters of tigers are tigers. Don't ever bet against the resilience of our country. Dig in and let's get to work.
But, hey, what the Hell do I really know anyway? I'm just a Big Red Car.
Thanks to my pal, Will Shepherd, AFA grad and fighter pilot with a couple of tours over Hanoi under his belt who sent me an article from Victor Davis Hanson — bit of plagiarism never hurt a Big Red Car. Will is on the mend, so best to him.