I suppose it is obligatory to write an obituary for We Work given that we wrote about the company and its Initial Public Offering several times already.
On the final turn around the track to price and issue its Initial Public Offering stock to the public, the company "postponed" its IPO.
At the same time, they pulled the plug on their founder CEO, Adam Neumann for "high crimes and misdemeanors." Wait, sorry. Got confused for a second.
Neumann "stepped down" and the lead investor, SoftBank through its Vision Fund, took action to right the sinking ship.
So what happened, Big Red Car?
Here's what happened, dear reader:
 1. The Initial Public Offering was "postponed" until at least October. Yeah, right. That puppy is dead.
 2. The valuation of We Work dipped from $47B to $20B to $10B. I suspect it's now at $3B.
 3. Neumann, his wife (Chief Brand and Impact Officer with a charge to infuse "spiritualism" into We Work), and as many as 20 of his cronies are out. Neumann has entered some Twilight Zone wherein he is the "non-executive chairman of the board" of We Work.
 4. The offering memorandum, the S-1, revealed some egregious, offensive matters that were "fixed." OK, in the process of being fixed.
Neumann's voting premium went from 20:1 to 10:1 to 3:1.
The $5.9MM paid by We Work to obtain the trademarked name "WE" from Neumann, et al, was reversed.
Irregularities pertaining to buildings owned by Neumann in his personal capacity were sorted out.
 4. The company is selling its $60MM Gulfstream jet.
What does this really mean, Big Red Car?
Good question, dear reader.
 1. The fallout is enormous. Remember we started this conversation with $47,000,000,000 of perceived value on the We Work table. Now, it is mostly gone. How much? Maybe 90%?
 2. Landlords will not lease to We Work because of the perception that they are in desperate need of cash. This is a deadly development as it stops any reasonable growth dynamic.
 3. See #2. above — the company is staring down a cash issue.
 4. The "people" are turning on the Messianic leader known as Adam.
He has gone from being a visionary to being a pot smoking, erratic, meat-banning, tequila drinking, self-dealing, greedy, Jesus figure, toxic manager. That's what his friends say.
 In the Cult of the Founder world that he lived in, one day you're a genius and the next you're not. It is a hard and painful transition.
 5. The enormous vision that had Adam Neumann thinking — no, saying: "There are 150 million orphans in the world. We want to solve this problem and give them a new family: the WeWork family" may be under attack as the company tries to come to grips with a new reality.
This is what is called a "broad vision" — when your startup side hustle is to take care of the world's orphans.
Better still, he had the whole world peace issue in his sights: "When countries are shooting at each other, I want them to come to me." Bridge too far for a company that has failed to turn a profit? Maybe so.
 6. A lot of We Work acquisitions are or may be on the chopping block.
Case, August 2015, Information modeling and consulting firm
Welkio, March 2016, Office sign-in system for guests, California
Fieldlens, June 2017, Project tracking software, mobile
Spacemob, August 2017, Singapore based provider of co-working spaces
Unomy, August 2017, Tel Aviv based provider of sale and marketing platform
Flatiron School, October 2017, NYC based operator of coding and design boot camp for students
Wave Garden, November 2017, Donostia, Spain based manufacturer of wave-generating systems for surfing
MeetUp, November 2017, new York based online social networking meeting platform
Conductor, March 2018, New York based SEO tech company used to track customers' search trends
LTB, April 2018, London based architectural services firm
Naked Hub, April 2018, Shanghai based operator of co-working spaces
Mission U, May 2018, San Francisco based operator of a vocational boot camp
Designation, August 2018, Chicago based operator of a coding boot camp
Teem, September 2018, Salt Lake City based developer of office management and analytics platform
Euclid, February 2019, San Francisco based operator of a behavioral analytics identity platform
Managed by Q, April 2019, New York developer of a maintenance and admin services platform for co-working customers
Islands, April 2017, San Francisco messaging app for college campuses
Prolific Interactive, June 2019, New York based marketing platform for brands
Waltz, June 2019, New York developer of building access app
Space IQ, August 2019, Mountain View, California developer of workplace management platform
Spacious, August 2019, New York co-worker space provider in underutilized restaurants and retail spaces
This is an extraordinary list of acquisitions and investments.
I think it would be fair to say the We Work story is a story of CEO/Founder cult going off the rails. It is a shit show.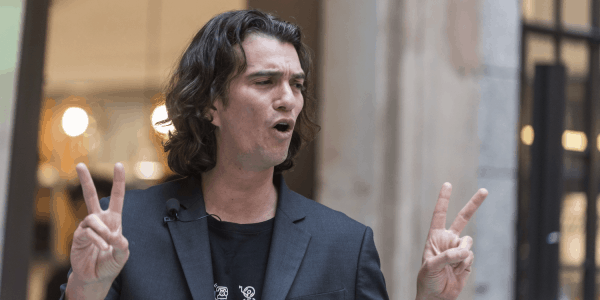 We wrote about it before, here:
So, dear reader, there you have it — the We Work obituary. Hope it turns out well for all.
But, hey, what the Hell do I really know anyway? I'm just a Big Red Car. Have a great week, America.