Comes now the curious story of Tootsie Roll. I love Tootsie Rolls. My local Wells Fargo Bank used to have free Tootsie Rolls.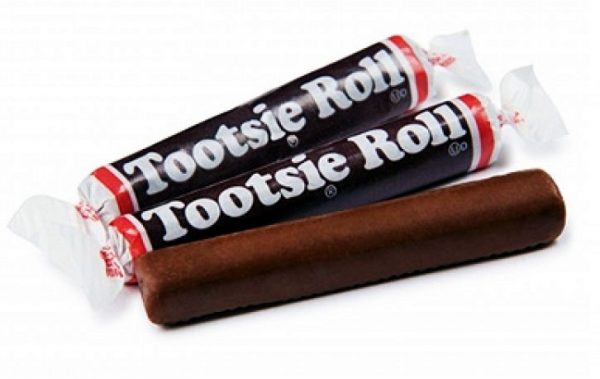 The Tootsie Roll was invented and manufactured for the first time in 1907 (this date is in dispute). Yesterday, and every day for the last few years, they made 64,000,000 Tootsie Rolls at the Tootsie Roll Industries plant in Chicago.
64,000,000 Tootsie Rolls per day
The Tootsie Roll was named after the daughter of the inventor, who died in a tragic suicide when his candy company failed.
The company is public and has been a damn good performer. Look at this chart. [We need a better chart, Big Red Car. This one is a little fuzzy. Shut up.]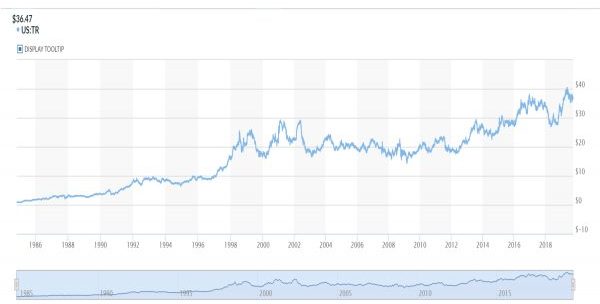 In addition, the company has paid a dividend that has increased for the last fifty years. Hello, America!
Truth is stranger than fiction
There is a famous anecdote about the Marines and Tootsie Rolls in the Korean War at the Battle of the Chosin Reservoir.
The Marines had run out of mortar ammunition. Someone had inadvertently requisitioned more mortar ammunition using the slang name for such rounds, "Tootsie Rolls."
The Marines got real Tootsie Rolls and ate them on their retreat from the Chosin.
The Tootsie Roll company prides itself on supporting the military since World War I. Tootsie Rolls are included in military rations. I don't recall seeing any in a C Ration, but I do recall getting huge boxes of them from the mess hall when overseas.
Frank Sinatra apparently loved Tootsie Rolls and made ads for them in the 1940s. It is said he demanded Tootsie Rolls be included inside his casket when he was buried.
What's in a Tootsie Roll, Big Red Car?
Dear reader, a Tootsie Roll is made of cocoa, whey, soy lecithin, sugar, corn syrup, palm oil, condensed skim milk and flavorings (some natural and some artificial).
It tastes like a mix between a caramel and salt water taffy. It is chewy.
This is some very unhealthy stuff, but they make more than 64MM of these little boogers a day — lots of different sizes.
I guess it's sort of vegan, no?
Tootsie Roll the company
While one may find fault with candy as a food group, the company was named as one of "America's 200 Best Small Companies" by Forbes.
It was named as one of the "100 Best Corporate Citizens" by Business Ethics Magazine.
It is known in the industry for being on the cutting edge as it relates to candy making equipment.
It is a secretive family run business that brags about its progressive management style.
The company says that the Tootsie Roll goes back to 1896 while other sources put the date at 1907. The Tootsie Roll Pop dates from 1931.
Who runs Tootsie Roll Industries, Big Red Car?
This company has had extraordinarily stable management.
Melvin Gordon was the Chairman and CEO of the company for more than half a century — from 1962 to 2015 (died at 95 years old), whereafter he was succeeded by his wife, Ellen Gordon (former COO and President), the current El Supremo.
The company produces its candies in a former Dodge Auto plant in Chicago, has a factory in Mexico City, and another in Cambridge, Massachusetts.
The company was always known as a secretive operation, never granted an interview, and is more than 50% owned by Gordon family members.
The company has been the subject of takeover speculation (zero debt, cash on the balance sheet, profitable, last big candy company in the USA), but good luck — the Gordons intend to have a Gordon run it forever. Ellen is in her 80's, but going strong. The stock price jumped 7% when Melvin Gordon passed away because folks thought it might go on the auction block. Good luck with that.
Teaching point, Big Red Car?
Why, yes, dear reader. Not every company is on a blinding speed path to growth. Don't turn your nose up at Tootsie who has made more than half a dozen acquisitions during its history.
While TR produces a number of other candies, Tootsie Roll and Tootsie Pops are the big boys. Sort of a singular focus.
They run a sharp, ethical, family shop and are clean as a whistle when you look at their income statement, balance sheet, and statement of cash flows. This is a jewel of a company that nobody knows anything about.
They did it their way! Frank would have liked that.
OK, dear reader, I have to go now. I need a Tootsie Roll.
But, hey, what the Hell do I really know anyway? I'm just a Big Red Car. Have a great weekend. Have a Tootsie Roll.