Big Red Car here.  The Boss is finally back from skiing in SBS.  Sheesh, Boss.  We thought you were never returning.  Almost two months of skiing?
But, hey, Boss, me and the housekeeper had a damn good time.  At least that kid likes to take me out for a ride from time to time.  Bluebonnet trip, Boss?  Hint.  Hint.  Hint.
So The Boss likes a road trip as much as the next guy.  He particularly likes the 1,000 trip from Austin to Steamboat Springs.  He's been doing it for so long he has it all down pat including his favorite restaurants and the new discoveries along the way.
He knows some really good restaurants and with the power of Google and UrbanSpoon, well the trip might just be a good food journey.  He likes the sometime barren roadscape.
This last trip he got caught in an old fashioned spring blizzard and the Eisenhower Tunnel was closed which necessitated his holing up in Dillon, Colorado until the storm blew itself out.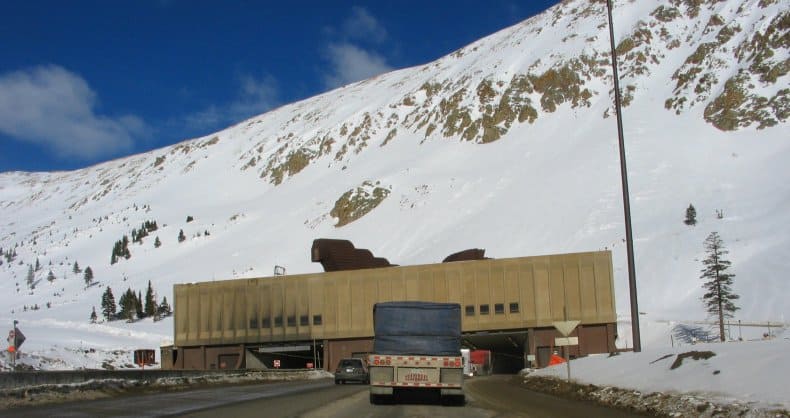 He got through Rabbit Ears Pass just fine but by the time he got to the Eisenhower Tunnel at Loveland Pass, a full on blizzard and a couple of accidents closed the passage.  Night was getting ready to fall and there was no chance of making it.  The storm was coming in from the east and even getting through was no assurance as it descends from 11,000′ to Denver.  Dicey ride.
He and the Real Boss love chatting and lately Books on Tape has been a good addition.
The country side along the way back was just springing to life and the azaleas in Austin are all abloom.  In Texas, the bluebonnets are at their peak.  Maybe a bluebonnet ride for the Big Red Car?  Give it a thought, Boss.
There is a stretch of road between Raton, New Mexico and Dalhart, Texas that is bleak.  Its stark bleakness can also be beautiful.
Here's an example of its bleak, stark beauty.
You can see the moon rising over Texas lighting the way home.  This is a couple hundred miles south of the Eisenhower Tunnel and they got some snow but not the Spring blizzard they got in the Rockies.  You are in New Mexico here but you are within an hour of the Lone Star State.
The Road Goes on Forever and the Party Never Ends.
But, hey, what the Hell do I really know anyway?  I'm just a Big Red Car.  Be kind to someone who would really appreciate it and needs it.  You