It does not matter whether you love or hate President Trump, the economy is not influenced by your individual feelings or emotions.
Nancy Pelosi, who does not hate President Trump and who is a great Catholic, is praying for the economy and President Trump. [President Trump is praying for her also. The Big Red Car is praying for both of them though not at the same time.]
Here she is with that powerful pointer finger of hers. Looks great for 80, no?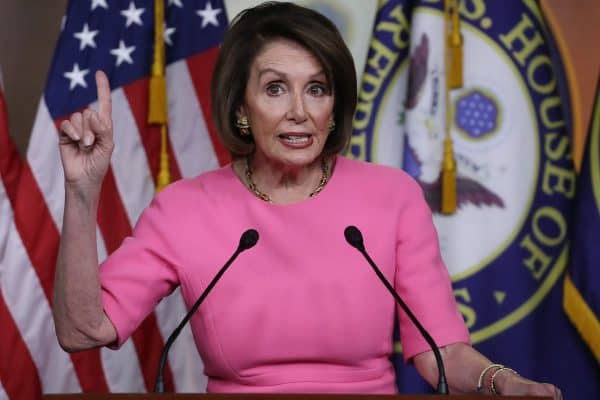 The economy is impacted by policy coming out of Washington and since early 2017, that policy has been guided by President Trump.
Today, we learned that unemployment has dipped to the lowest level in half a century — 3.5%. The US created more than 266,000 jobs in November 2019. Hello, America!
This has to be the best labor market in a century.
We are also experiencing virtually no inflation, low interest rates, and ready availability of capital.
What does any of that mean, Big Red Car?
The first thing is we have zero chance of a recession any time soon.
The second thing is that the expansion of jobs, the low unemployment rate means that the USA is winning the trade war with China. If we were losing, the losses would show up in a dicey job market, job losses, and higher unemployment.
Trade War with China?
The Chinese announced today that they are going to forego tariffs on soybeans and pork.
The Chinese are having a hard time replacing high quality US soybeans.
The Chinese are suffering through an African Swine Fever epidemic in the pork world.
Half of the world's pigs live in China and half of the Chinese pigs are dead or dying because of the African Swine Fever epidemic.
This is also why the Chinese have agreed to allow chicken imports from the US and rice. We are exporting rice to China? Yes, we are.
It looks like we may be very close to agreeing to a Phase One trade agreement with China, but one has to ask: Why do we even care?
Bottom line it, Big Red Car
So, there you have it, dear reader. The economy is the best in a century. Unemployment is the lowest in half a century. Inflation is negligible. The chance of a recession is zero. Interest rates are low. Capital is cheap. The Chinese are embracing US soybean, chicken, rice, and pork imports.
Is this a good time to be alive or what?
So, what should we do? Hey, why don't we IMPEACH the guy who's running the ship? Haha, that was a cheap shot. Sorry.
Be well. Call a pal this weekend.
But, hey, what the Hell do I really know anyway? I'm just a Big Red Car.