I believe that the United States of America has produced two superlative leaders in its entire history: George Washington and George C Marshall.
I have been a student of history (said the guy with degrees in civil engineering, economics, math [the economics and math degrees come from the electives I took for civil engineering wherein I had 28 more credit hours than I needed to graduate], and finance, but no history) for as long as I have known how to read.
In the last 40 years, I have been enthralled about learning about leadership by reading history — primarily biographies about Presidents and military leaders — to see what lessons I can glean from them that are applicable to my own little sphere of influence as a CEO and a CEO coach. I was a CEO for 33 years, an Army officer for 5 before that, and a CEO advisor/coach for 7 years.
The case for Washington's greatness as commander-in-chief of the Continental Army, the first President of the United States, and an entrepreneur is easy to find. He is sufficiently removed in time that his life is well documented by progressively better and better research and books about his life and the lives of those around him.
My favorite "starter kit" on Washington is Ron Chernow's biography, Washington, A Life. [Chernow's books on Hamilton and Grant are also excellent.]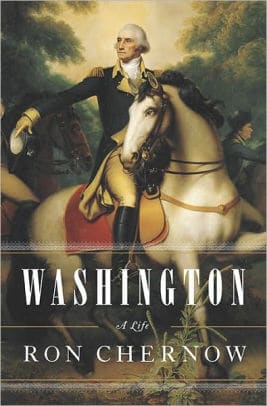 I have written a bit about Washington here:
My favorite learnings about Washington are as follows:
 1. I was surprised to learn what a successful entrepreneur he was before he burst on the scene as the Commander-in-Chief of the Continental Army.
 2. I was surprised to learn what a skillful general he was — his techniques for conducting counsels of war, his  incredible daring at the Battle of Trenton (a night double envelopment, cold weather river crossing against an enemy he had never beaten), his consistent refusal to allow his army to be decisively engaged (thereby avoiding defeat of the entire army) with the Brits, his giving von Steuben a free hand to train the army at Valley Forge, and his careful use of French support at the end of the Revolution to deliver the coup de grace to Lord Cornwallis at Yorktown.
It is worth noting that after Valley Forge, the Continental Army — that was unable to stand and fight with the better trained and led Brits — could now maneuver with speed and certainty to give battle to any British formation for the rest of the war.  The Americans became quite adept at deploying and using artillery. This magical transformation is often overlooked.
 3. I was surprised to learn how instrumental Washington was in establishing the organs of the new government — Hamilton gets a lot of credit here.
Washington's and Hamilton's plan to have the Federal government assume the war debt of each colony in return for the Federal government getting the benefit of the landing fees and customs duties at American ports is the glue that made the "united" states into the United States on a sound financial footing. It was nothing short of genius.
 4. I was surprised to learn he was considered the best horseman in the Colonies. This would have an enormous impact on his ability to lead from the front as he would ride a horse to the critical point of engagement and take charge. He was a stud.
George Catlett Marshall
As to George C Marshall, a graduate of my alma mater, Virginia Military Institute, he is only now long enough gone from the scene that his life can be fairly evaluated.
There are resources that are now just available for the first time — such as a compilation of seven volumes of his professional and personal correspondence.
I can recommend two excellent books: George Marshall, Defender of the Republic (July 2019) by David L Roll,
and George Marshall: A Biography (Oct 2014) by Debi and Irwin Unger with Stanley Hirshson.
I can also recommend a third book, Partners in Command (May 2007) by Mark Perry. I particularly like this book because it tracks the Marshall-Eisenhower relationship wherein Eisenhower got the command that Marshall really wanted: the Supreme Commander of the European invasion. Thereafter, Eisenhower would become the first NATO commander, the President of Columbia University, and a two-term President.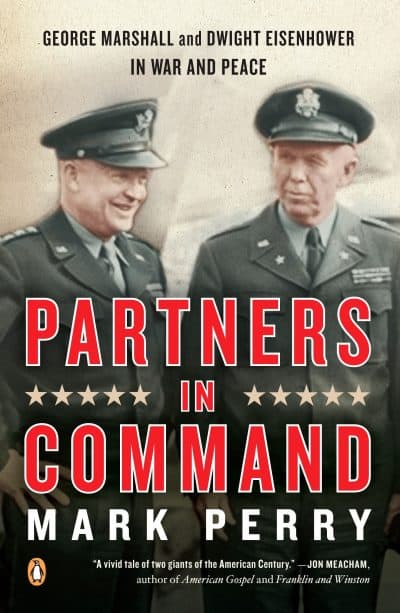 Marshall would become Ambassador to China, Secretary of State (during which the Marshall Plan for the recovery of Europe was developed), CEO of the American Red Cross, and Secretary of Defense during the Korean War.
Here are the key learnings I have gleaned from my Marshall readings:
 1. Marshall was recognized as a leader of great promise while at VMI whereat he was the First Captain though a mediocre student. At every stage of his career — including stints in the Philippines and China — he was recognized for his excellent planning and execution.
 2. Marshall had a very close relationship with General Black Jack Pershing starting in World War I. Marshall would deliver the eulogy at Pershing's funeral.
The most important American soldier of World War I was a mentor to the most important soldier of World War II.
 3. Marshall had a fiery temper that may have cost him more rapid advancement when he was passed over for early promotion to Brigadier General during WWI.
 4. There are no words available in the English language to adequately describe the high regard in which Marshall's integrity and honor were held by every important leader with whom he came into contact during and after WWII. Much of the critical legislation related to the FDR programs in WWII was the result of Congressional testimony and lobbying undertaken by Marshall.
Congressmen who would turn down a request from FDR would support the same request when it came from Marshall.
 5. Called the "Architect of Victory" by Winston Churchill, Marshall never held a combat command in WWII. The job he wanted — commanding the Allied invasion of Europe — went to Eisenhower, Marshall's pick for the job. He brooked no resentment during or after the war.
 6. Marshall wanted to stand up 200 divisions in WWII and was only able to organize and equip 90 divisions.  It was still the greatest startup of all time — more than 13MM men under arms in less than 3 1/2 years.
 7. Marshall was loyal to officers he knew, but was ruthless in promoting younger generals and men who would "fight." He tolerated Patton's shenanigans because both he and Eisenhower believed that Patton was America's best "pursuit" general, something Patton proved after the breakout from Normandy after the landings.
 8. Marshall felt the American soldier was not adequately trained and inspired. This revelation comes in the George Marshall: Defender of the Republic book published this year. This is contrary to much of the sentiment during and after the war.
He also felt that the average infantry platoon leader — a second or first lieutenant — was not as adept as his German or Japanese counterpart.
I could go on a bit more, but this is enough. Read the books.
A final word on history
The comparison of the maturity of the Washington narrative v the Marshall narrative is a lesson on how long it takes for history to gel. We once said that the newspaper was the first draft of history. Journalism is dead and buried, having morphed into something unholy and biased.
It takes a long time for the best historians to read, evaluate, and assess the incredible deep and extensive sources of modern history. The fact that there are seven volumes of Marshall's papers gives us an idea of how broad the sources can be. Only now many of the classified documents from Marshall's time are available to historians.
I think it takes 50 years and 2-3 iterations of history book writing to really begin to get the measure of a great man into focus. The quality of the writer begins to become more and more important.
As an example, we have a whole different way of looking at Marshall using a "startup" lens that did not exist in the applicable time frame. Today that startup lens gives us a different dimension to explore when evaluating Marshall's greatness in standing up the US Army during World War II and dealing with the subsequent inadequacies during the Korean War.
In addition, after history uses the broad brush to make a first pass at the story, it employs a finer brush that exposes interesting elements of the story that are overlooked with the broad brush. Two of those are: Washington's entrepreneurial history and Marshall's mission to China after the Second World War when the Communist Mao was driving the Nationalists under Chiang Kai-Chek off the mainland to Formosa/Taiwan.
There is a good book I have queued up to read, The China Mission, George Marshall's Unfinished War, 1945-47 (Apr 2018).
Bottom line it, Big Red Car
If you are a student of America and if you want to understand from whence our great country comes — as a foundation to see where it is headed — you must understand the great men who have formed it.
You will have to read their stories from multiple sources to get a sense of that story.
But, hey, what the Hell do I really know anyway? I'm just a Big Red Car. Be good. Read a damn book this weekend.