Packaging and Bird Dog Bay — bet you didn't see that coming?
Big Red Car here on the day after the Tarheels' victory over Kentucky sending them to the Final Four. Final Four, baby! Is this a great country or what?
OK, so the topic for today is PACKAGING — like the Four P's (Product, Pricing Promotion, Placement).
[Uhhhhh, Big Red Car, "packaging" is not one of the Four P's. You did notice that, right?]
Sometimes, people can be so damn annoying. Have you noticed that?
As I was saying, packaging is important. It can be the hook between an eye catching product and an impulse buy.
Bird Dog Bay
Bird Dog Bay is an Etailer with a nice web presence, but the story doesn't start there. Look at their website at Bird Dog Bay.
The story starts in Fredericksburg at the edge of the Hill Country. The Boss was in Fredericksburg preparing to launch to circumnavigate the Willow City Loop to study the bluebonnets in the Hill Country. It is that time of year — bluebonnets.
He was putting some chow away, at a lovely restaurant, to fortify himself to confront all that beauty. The restaurant had a gift shop and in the gift shop was a display from Bird Dog Bay.
It was preppy merchandise of a certain flair that tickled The Boss's interest. What he liked was the approach to the product. So, he remembered the name and when he got back from his trip to the bluebonnets, he looked them up on the Interweb. [That Interweb thing looks like it's starting to catch on. Might be big. Keep an eye on it.]
He ordered three shirts. Primarily, he ordered these shirts to study their packaging. [IRS, if you are listening and we know you are, this will not be a tax deductible expenditure. No abuse here, y'all.]
So, he received the shirts and he liked them. What's not to like about an Egyptian cotton shirt which feels like a massage against your skin?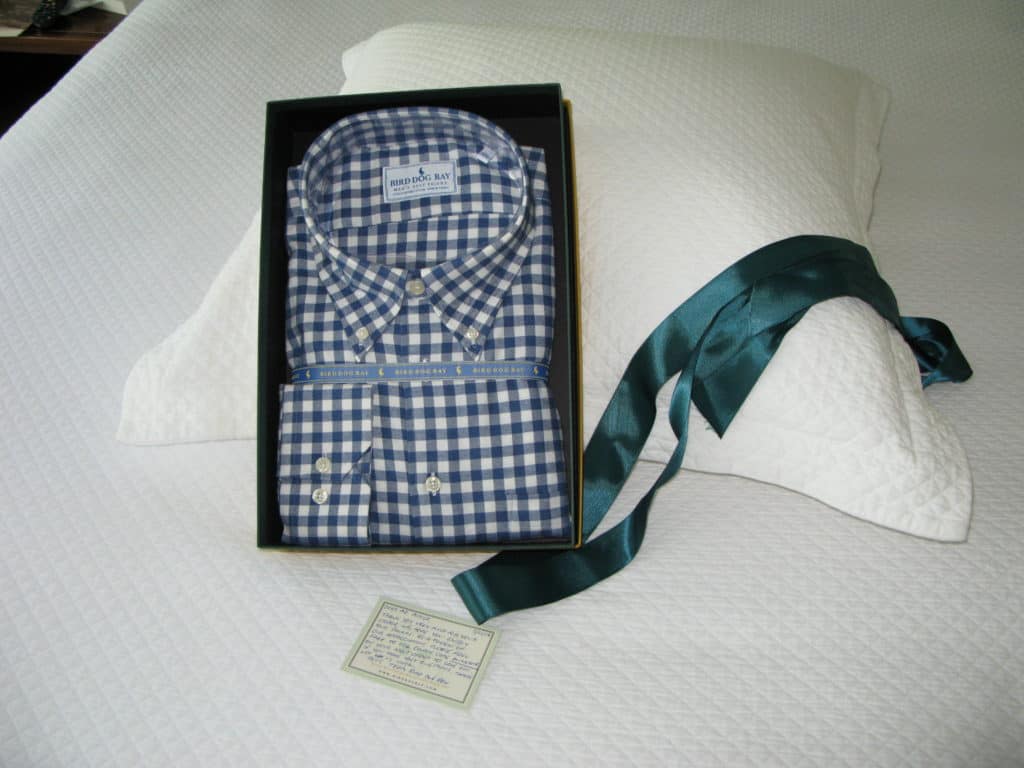 The shirts were packaged in a very nice box (too nice to throw away) with a lustrous, thick ribbon (also too nice to throw away). Whoever ties the ribbons knows their craft.
There was a handwritten card.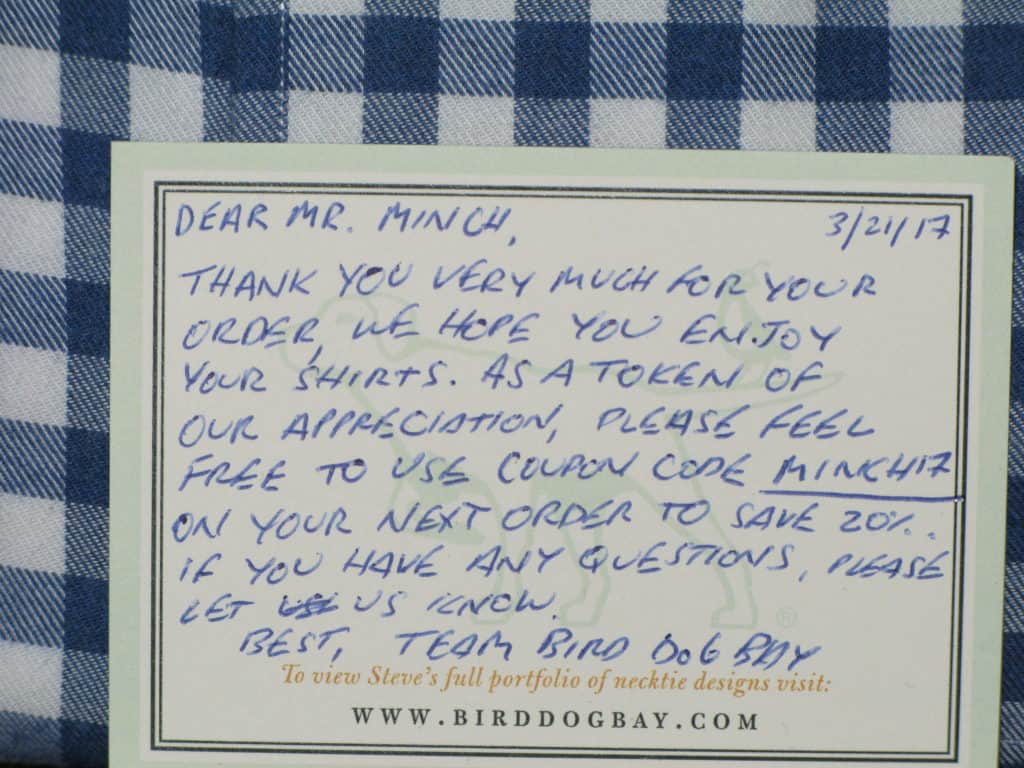 So, there you have it. From a lunch enroute to the bluebonnets at the Willow City Loop, to the web, to a purchase of three shirts ($135/each, ouch), to the packaging, and the hand written note offering a further discount. The role of packaging can be a critical element in the Etailer's connection with the market.
In this instance, those Bird Dog Bay boxes will be around for a long time because they are ………. too nice to throw out. They will be promoting (which is one of the four P's) their brand for a long time, also.
Willow City Loop
If you need to see some bluebonnets, you are a few days from PEAK BLUEBONNET or you can just look here:
2015 Bluebonnet Tour – Willow City Loop (near Fredericksburg, Texas)
2016 Bluebonnet Tour
You owe it to yourself to go see those bluebonnets.
So, there you have it, dear readers — the importance of packaging (which is not one of the four P's) in creating a brand image. But, hey, what the Hell do I really know anyway? I'm just a Big Red Car.