Big Red Car here in the glorious ATX where it is the best time of the year because of the azaleas, the weather, the bluebonnets and the Final Four.
Inevitability anyone?
In all of this is a lesson for entrepreneurs struggling with their startup businesses — an excellent lesson. A lesson of hope.
As an aside — Easter? Happy Easter! Talk about a lesson of hope, y'all? Easter is the big one — the triumph of life, love, redemption over sin. Wow!
The Final Four
For basketball fans — if you're not a basketball fan, that's OK (with someone, I am sure but not the Big Red Car) — this is the weekend of life, the weekend of the splendor of the national championship.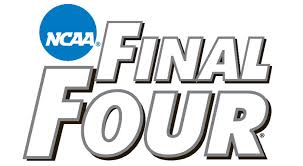 This is what you live for. This is what they invented flat screen television for. This is what HD was invented for. This is life.
No surprises this year — three number one seeds and a very likely Tom Izzo coached Michigan State, an unlikely participant but a likely one just the same. Tommy Izzo is a great coach and knows how to work his team to a peak for the Big Dance (you call the NCAA tournament the "Big Dance", makes it sound like you are a hard core fan, which you ARE, my friend).
You have Kentucky, Wisconsin, Duke and Michigan State.
Preliminaries
Duke beats Michigan State like a rented mule. Ouch. [Wanted to say like a "red headed stepchild with a lisp" but The Boss has a red headed daughter and it's a kind of sensitive issue.]
Hey, those Dukies are brutal and they take no prisoners.
Coach K — forget how to spell his name — is a battle hardened West Point grad who knows how to fight his team. He is a killer.
[Full disclosure: The Boss's favorite team is the University of North Carolina Tar Heels. He hates Duke. He hates the Rat (Coach K). Well, until they get in the tournament and then if the Heels lose, The Boss reverts to a reluctant Duke fan. Sorry. He is fickle that way.]
Wisconsin beats the University of Kentucky Wildcats in a very well played game.
University of Kentucky — the "inevitable winner", no?
The University fields NINE McDonald's All Americans and one player — not a Mickey D's All American — who was first team All American. They go ten deep.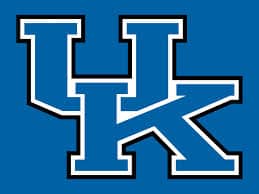 Some folks say the best team in America is the Wildcats first string and the second best team in America is the Wildcats second string. The second string has five McDonald's All Americans, so the boast is not all that crazy.
What the Wildcats also have is perhaps the finest winning basketball tradition in America, a great coach in Coach Calipari — John Vincent Calipari — and height. You cannot make height in the weight room and you cannot coach height. You either have it or you don't. Kentucky has it.
Coming into their game with Wisconsin, they were undefeated and, more importantly, they had the ability to win tough games at the end. The mark of a champion is the ability to win the tough ones. To be a basketball assassin when it counts, when the game is on the line.
The sports world had all but given the trophy to the Wildcats and rumors indicated they had already picked out a place in their trophy case and bought new lighting. The inevitability of it was conceded by all but the most hardened skeptic who says: "We play all of them. We concede none of them."
Wisconsin — those fierce Badgers
Wisconsin does not have any McDonald's All Americans suiting up for them. They do, however, have a very fierce mascot, a badger.

Badgers are fierce animals who are dangerous and will fight anything that messes with it. A badger is not an animal you want to mess with.
The Boss met a couple of badgers — huge claws — when fly fishing in Colorado around Walden. They chatted peacefully but the badgers ran The Boss off and he, wisely, went about his business. He had a pistol with him, so if it went "ugly on an ape" the badger was in some deep shit. Luckily, it did not and The Boss let the badgers run him off.
They still Skype from time to time.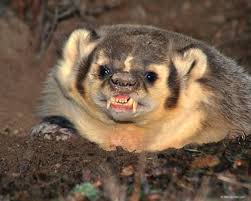 Does this look like an animal you want to try to hand feed? Well, maybe, if you have a hand which you want to get rid of?
What the Badgers of Wisconsin bring to the game is a TEAM. They bring teamwork. They bring hustle. They bring hard work. They bring confidence, great coaching and a plan.
Wildcats v Badgers
The Wildcats, the inevitable winners, and the Badgers played a basketball game last night.
The Badgers — no McDonald's All Americans — beat the Wildcats in a tremendous game.
The Wisconsin TEAM was a better team — last night — than the big, inevitable, talented, tall Kentucky team.
Why?
We are wondering into the arena of opinion, hopefully based on some solid facts, here. Feel free to cite other facts, to offer other opinions but just consider the following. Consider it.
The Wisconsin team won:
1. Because they played better as a team.
2. Because they had a superior plan.
3. Because they had excellent leadership on the bench — the coach, Bo Ryan — and on the floor. Leadership.
4. Because they executed their plan.
5. Because they never, ever, ever gave up.
6. Because they thought they could — THEY THOUGHT THEY COULD! They wanted Kentucky. They wanted to compete. They had stones the size of freakin' Argentina!
7. Because they exploited the advantage and they doubled down on what worked.
8. The stayed the course.
If you want to, you can go to the box score and see the stats as to why Wisconsin won. That is "head" stuff. This is "heart" stuff. You start with the heart and you circle back and double check the head stuff. To be a winner, you have to want to be a winner and that comes straight from the heart.
Founders, entrepreneurs, CEOs
OK, this is not a story about basketball. [OK, Big Red Car is going to have to call bullshit on himself. Yes, it is a story about basketball. Why can't that be enough? It is the freakin' Final Four, right? What is more "basketball" that that? Calm down, Big Red Car. It's also a story about entrepreneurs, founders and CEOs. Calm down.]
As a founder, entrepreneur, CEO you will have to plan, execute, compete in order to win. Just like the Badgers.
You can do it but don't bullshit yourself. If you want Badger-like outcomes, you have to plan, lead, game plan, build a team [You get it, you don't "need" superstars, McDonald's All Americans, right?] and then get your Badger on and go take a piece out of the market's ass.
Start with the heart and finish with the head.
Be a business Badger. Plan, execute, compete, win! Screw inevitability!
Hey, look at me. Listen to what I'm telling you. YOU CAN DO THIS! Look at that picture of the badger above. That's you!
You are a BUSINESS BADGER. You are fierce. You are an ass kicker. You do not take prisoners. You are unafraid and don't believe in inevitability. You are a winner. [Stand up a little straighter, you're slouching. That's better. Thanks.]
But, hey, what the Hell do I really know anyway? I'm just a Big Red Car. [Badgers cut down the nets and have Dukies for dinner. Screw Duke! The business about rooting for Duke when the Heels are out of the Big Dance? Pfffft!]