This Thanksgiving, I am grateful for the American tradition of championing the underdog.
If you were knocked unconscious this week or you do not follow college basketball (I would personally prefer my excuse to have been the "knocked out" thing.) then you may not know that the Stephen F Austin Lumberjacks whipped the #1 Duke Blue Devils (they wanted to be called the Spawns of Satan, but that name was taken), thusly:
Stephen F Austin 85 — Duke 83 Final, OT
The Lumberjacks/Jills beat the Dukies at Cameron Indoor (this is a known portal into Hell that is located on the Duke campus and has a home team advantage of at least 20 points with the heat and the student body rocking the house).
Allow me to share some highlights:
 1. Duke has not lost a home game against a non-conference opponent since the Lincoln administration.
 2. The betting line — just an oddity that I follow as I NEVER bet on college basketball — had Duke favored by 29 at game time down from 123 before the tip.
 3. Duke opened a workmanlike 15 point advantage in the first half and looked to be coasting to a win until the Lumber Royalty began to pick their pockets forcing ooodles of turnovers.
 4. The Lumberjacks/Jills (political correctness, I bow at your ankles) beat the Dukies in OVERTIME. This was a damn good game.
 5. During the OT, both teams stunk it up until the final 10 seconds when Saint Nathan Bain made an uncontested layup off a steal to win the game. [The Pope has not made a final decision on Bain's canonization, but he has given preliminary approval.]
 6. The Lumberpersons have never beaten a #1 ranked team since Texas was an independent country before it merged with the United States of America.
 7. The data points of note:
Duke had its 150-game home winning streak against non-conference opponents trashed.
The Lumbers were the first non-Atlantic Coast Conference team to beat Duke in two decades — 20 years.
 8. The Dukies were coming off a superb win at Madison Square Garden v Georgetown and may have had the "big head" when lacing it up with the Lumberarians.
What was the key to the game, Big Red Car?
Don't ask me, ask Coach K. He said:
"They forced turnovers. That's what they do. They force 25 or 26 a ball game. A key factor of the ball game is to be strong with the ball and we were not strong with the ball. That's the easiest answer. You have to be strong. If someone is going after you hard, you better catch it hard. We were catching it with one hand and trying to make a move. If it's physical that ball is not coming with you. It's not a foul. It's the physicality of the game. You have to catch it. It's not a game where territory was easy, so you have to fight through. We were not good and they made us that way. This is not about us not showing up. They played really well. Sometimes when I'm talking about what we didn't do, I don't want to disrespect their performance. Their performance was outstanding and they deserve their recognition for that. They did it to us. They made us look bad."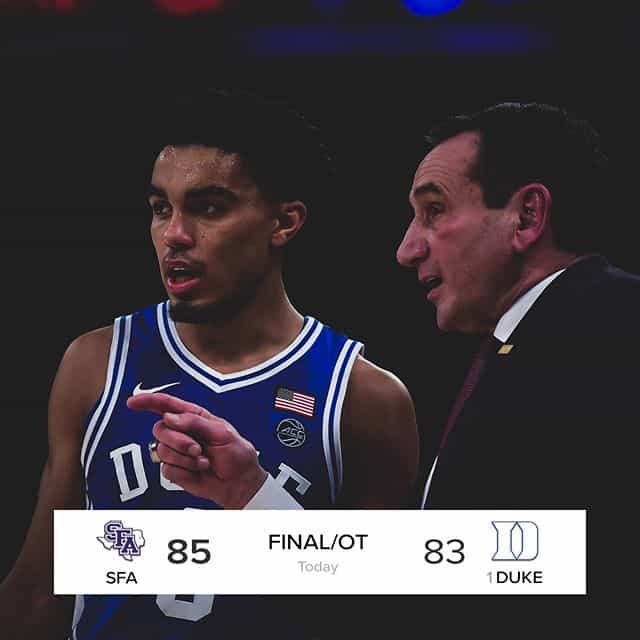 So, there you have it, dear reader.
This is why we play every game in life to its final resolution. Why we never, ever, ever quit. Because an unknown can humble a #1 powerhouse if only they can marshal the right strategy, execute, and play like champions.
For this, Dear God, and many other things, your humble Big Red Car is grateful beyond measure.
Did I mention that SFA is located in Nacogdoches, Texas? Is that sweet? The Dukies got beat by a team from Texas that nobody can spell their home town. God works His magic in wondrous ways.
Hook 'Em Heels!
But, hey, what the Hell do I really know anyway? I'm just a Big Red Car.
Late word indicates that Coach K has cancelled Thanksgiving at Cameron and has the lads running the stairs. Oh, well!