Coachability?
It is a cold, wet day in the ATX with the leaves abandoning their perches and congregating in my pool clogging the skimmers and the filter.
As a CEO, you have two dogs in the coachability fight.
First, there is your own coachability — do you take well to criticism and coaching?
Second, can you dish it out to your subordinates and is it effective? 
Being coached, coachability
As to your own coachability, the big thing is from whom you are receiving the coaching, what is your own personal learning style, and what is your objective?
Tiger Woods had an interesting relationship with coaches.
 1. Woods' first coach was his father, Earl, a former Special Forces officer. Earl made Tiger. He also new exactly when to step back and get Tiger professional coaching.
 2. When Tiger was in college and when he came out on Tour, Tiger was coached by Butch Harmon: 1993-2004. Harmon was a pro golfer and the son of Masters Champ Claude Harmon, Sr.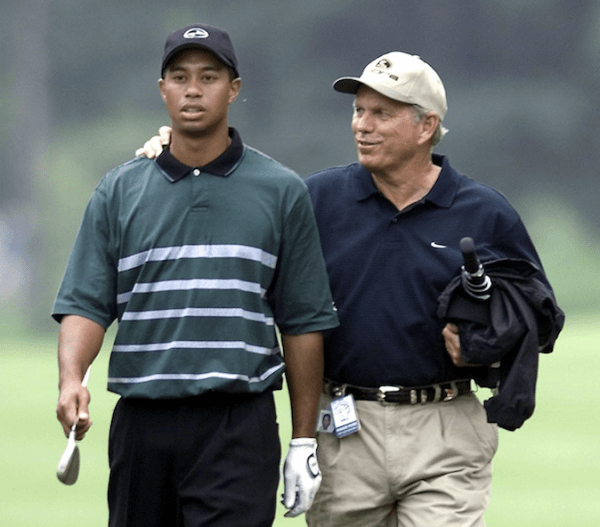 This team won three US Amateur titles in a row, eight majors including the Tiger Slam in 2000 and 2001 — wherein he owned all four major trophies simultaneously.
Tiger also won 34 PGA Tour events with Harmon.
Harmon was a known extraordinary coach who worked with Ernie Els, Freddie Couples, Davis Love III, Greg Norman, Phil Mickelson, Dustin Johnson, and Rickie Fowler.
 3. Tiger worked with Hank Haney, 2004-2010. During the Haney collaboration, Tiger won 31 PGA Tour titles.
After Tiger ran into some personal issues, they parted and Haney wrote a tell all book: "The Big Miss: My Years Coaching Tiger Woods."
I think Haney's book was a betrayal of the confidentiality standard that all clients should expect from and receive from their coaches. Tiger made it worse with some reprehensible conduct of his own. I think thereafter that Tiger became a little cautious as to coaches.
 4. Woods worked with Sean Foley, 2010-2014. With Foley, Tiger regained his #1 ranking, won nine times. They parted company when Tiger was injured.
 5. Most recently, Tiger worked with Chris Como, 2014-2017. In the middle of that time period, Tiger took a 15 month hiatus to deal with health and injury issues from fusion surgery.
Como is a very technical coach.
Since 2018, Tiger has not found a coaching arrangement to suit him.
The point of this is to accentuate that a coach can be a welcome addition to a professional's (including CEOs) efforts even when you are already a world class performer, but even then, you must have the right coach.
Again, you have to want a coach, be receptive to coaching, have the right coach, the coach has to have the right coaching style, and you have to get results.
Finding the right coach, coachability
As a CEO coach, I always like to ask a new client what they think I can assist them with. The answer is always interesting.
Sometimes the answer is, "Everything."
Sometimes, the CEO has a focus on specific requirements.
Sometimes, the answer is, "I need a sounding board that is not the Board of Directors." It is never a good idea to confide your fears in someone who can fire you or who has a duty to ensure the company is properly led. Part of CEO coaching is CEO survival in the face of the things you KNOW are going to happen.
Sometimes, the answer is, "I don't know enough to answer that question, but my gut is telling me I need some help from somebody who has been a CEO for 33 years."
One of the first things I try to assess is whether the CEO is intellectually curious and whether they are a critical thinker. If the answer to both of these questions is "NO," it is not fatal though I always believe that a curious mind and a critical thinking mind frames and makes decisions in a superior manner.
I also ask them: "What percentage of your decisions are good?"
Many folks respond 90%. Others respond 40%. Therein lies a huge insight into a person's view of the world and what I can actually assist them with.
If you decisions are 90% good, then you do not need me; you do not require any coaching; and you are good to go. Save your money, sayeth I.
Of course, there is some gap between what we think of our own performance and what an objective assessment might suggest. When I find the 90%-er, I always ask them to tell me their last 3 great decisions and their last 3 not so great decisions.
When confronted with this — my style is not to be confrontational, but to get to the essence of the situation — I often find CEOs struggling to find the examples on both sides of the ledgers.
Conversely, the CEOs who say, "I only make 40% good decision" can always recount examples of both.
In many ways, this is the test of coachability.
When I work with 90%-ers and ask them the same question a year later, they smile, laugh, and say, "40%, but I'm getting better."
When the student is ready, the teacher will appear. Never forget that. You have to want to be coached and you have to be ready to be coached.
Coaching down for the CEO
Not only should  the ambitious CEO look to improve her performance through coaching, she also has a responsibility to coach her subordinates.
This is a duty that is often overlooked though I have found my very best CEO coach clients are also superb coaches. I would love to say they are mimicking me, but the truth is they are students of the leadership craft and that recognition alone is sufficient for them to be effective.
Still, subordinates have to be coachable, receptive to coaching, and a good vessel into which to pour this precious CEO time.
When I was a CEO, I had great success with coaching. I often would spot a talented young person, force them to get an academic basis in their job (send them to finish a degree or to get an MBA), and coach them in such a manner that they moved up the organization to take great responsibility.
I admit that they were coached to standards I set, but the outcomes speak for themselves. To this day, I still hear from persons with whom I worked who recognize the value of that coaching. Almost all of them are running their own companies.
In doing this, I urge a CEO to have a written plan, clear objectives, and a definitive investment in time. The CEO has to first run the business.
Coaching is different than training. The most mature small and medium sized businesses conduct internal training. I have never seen a "superb" company that did not have a sound training program.
Training and coaching are also essential in a tight labor market — you are creating talent from within.
So, dear reader, there you have it. A bit of shoptalk on the issue of coachability.
But, hey, what the Hell do I really know anyway? I'm just a Big Red Car.
Have a great weekend.