Big Red Car here.  Been raining cats and dogs here in the ATX.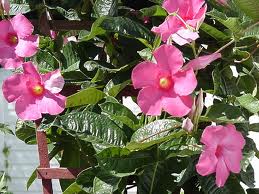 The Boss was mumbling about planting some hibiscus and mandevilla vines along his big stone walls by the driveway — where your Big Red Car often bivouacs on a rainy night.  [Hey, I like the idea of sharing my bunk with some cute red flowers.  Get it, Big RED Car and big RED flowers?  Haha, Big Red Car, you crack yourself up.]
But, alas, it has been too rainy for The Boss to do any planting, so he's been watching the NBA tournament.