Big Red Car here.  Chilly today, brrrrr!  But a very hot article today in Venture Beat about Austin — by God — Texas where me and The Boss reside.
Well, the secret is out.  And, the secret is Austin, Texas!
Look at the Venture Beat article here — "Why Austin is tech's new destination of choice" — and read it carefully.  Clink on the link to see the article.  It is very good.
One thing that the article does not touch on is the burgeoning presence of huge, huge manufacturers like Samsung who is investing several
Samsung is investing $4B — billion, laddies — in Austin and will employ over 2,500 construction workers and vendors in the effort.  Here is a press release <<< link  — from the company announcing its plans.  Just a smooth little $4,000,000,000 project.  Wow!
The Boss was Samsung's first landlord in Austin some 18 years ago.
Why?
The article 'splains exactly why folks are coming to Austin but let me, the Big Red Car, rub it in just a bit.
They are coming because of the business climate which starts with the Governor and the Legislature and the people — Texas is wildly pro-business.
It is also convenient that California is abusive in its treatment of business.
As a result one cannot swing a cat on a ten foot leash and fail to hit a transplanted Californian.  And, we seem to be getting the entrepreneurial and hardest working segment of the new immigrant class.
Last, Hell, Austin is just fun.  We have such a good time here, maybe it should be illegal.  Who knows.
Haha, here's me and a pal of mine — Bevo, the Longhorn mascot.  Big old Bevo is always trying to get me to cruise the Drag with him but he's just too damn big, ya'll.  Everything is bigger in Texas.  That Bevo is a monster.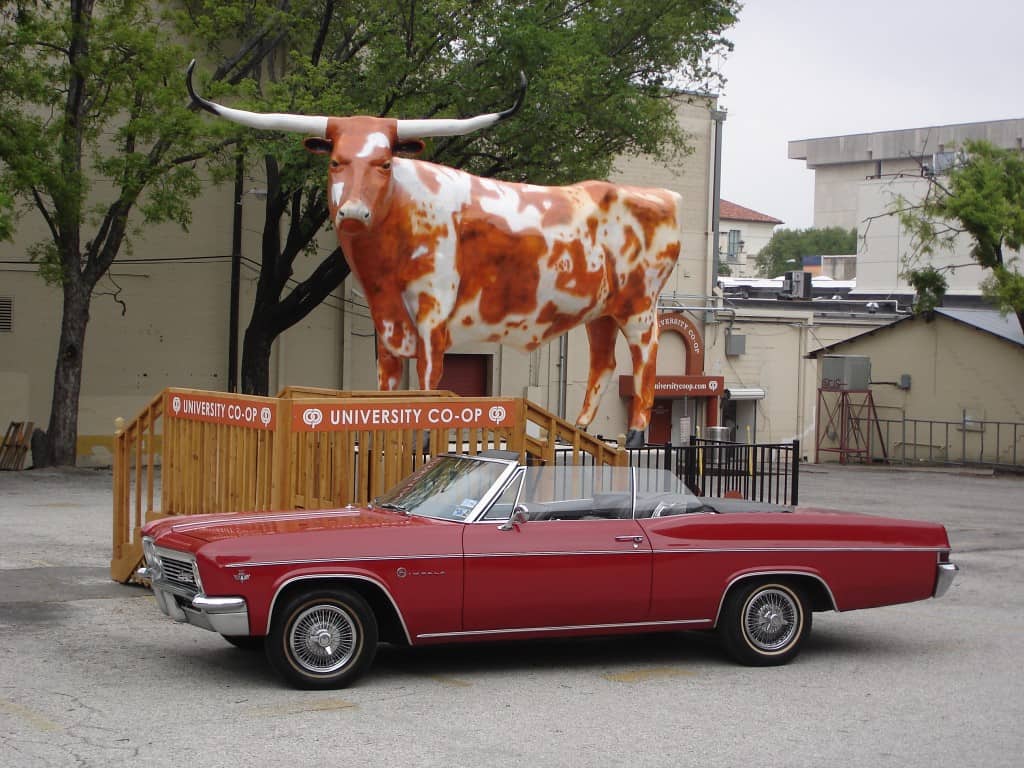 We got the Longhorns, SXSW, Austin City Limits, great food, Live Music Capital of the World, Barton Springs, BBQ (Green Mesquite, ya'll) and TexMex.
You
OK, let's get to the bottom line — the Big Red Car and The Boss are saving a place for YOU.  You know you want it, come get it.  You can stay in The Boss's blue guest room.  OK, maybe that's a step too far.  But, really, we WANT you.
But, hey, what the Hell do I know anyway?  I'm just a Big Red Car.
On Earth as it is in Texas!  In Austin — by God — Texas!