Beautiful day in the lovely city of Atlanta enroute back to Savannah from whence I fled Dorian the Hurricane Monster. It was a pleasant diversion with one of the highlights being the Georgia Aquarium, a recommendation from a pal/reader. Great recommendation.
So, Apple has just sold some corporate bonds. Corporate bond yields are trending down with the general flight from equities into bonds. But, Apple doesn't pay general corporate bond yield prices — about 6% for others.
No, sir.

Apple placed $7B of 3 to 30 year maturities at very tight spreads above Treasuries. They had intended to place $3-4B, but the book grew so quickly (more than $25B in offers to buy Apple bonds), they went with the bigger number.
I know what you're about to say — "Why would a company like Apple with so much cash on hand and so much in immediately negotiable securities (more than $100B, including subtracting out any debt Apple owes) take on any debt?"
Simple — it's the pricing stupid.
The 10-year portion landed at 78 basis points above Treasurys to yield 2.244%; and,
The 30-year slice cleared at 103 basis points over the risk-free benchmark to yield 2.987%.
Apple figures it can make a much bigger spread on that investable cash thereby creating massive operating/financial leverage, it can provide excellent liquidity if a great acquisition comes along, and investors will look favorably upon their stock as a result.
The day they made the placement, the stock was up more than 3.4%.
This is how big companies ride the wave of the strong American economy — they leverage their operating acumen by taking advantage of what the financial markets offer them.
Apple. It's an American company riding the American economy wave. Here's the YTD chart for the Apple empire.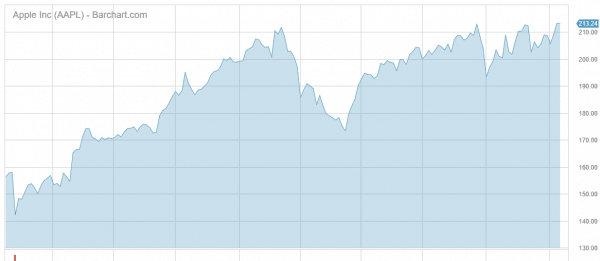 But, hey, what the Hell do I really know anyway? I'm just a Big Red Car. Damn good weekend ahead. Pray for the Bahamas and the Carolinas. Screw you, Dorian.